Variant Covers: Bruce Wayne Is One Sexy Caveman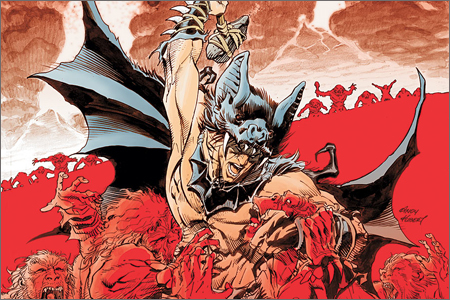 [Variant Covers is a column every Tuesday that breaks down the various titles coming out that week in the world where Bruce Wayne can look like a complete asshole.]
Batman: Return Of Bruce Wayne #1
Hey kids! Are you totally not fatigued with everyone's favorite sensation: time traveling? Well, I hope you're not! Because this week, Grant Morrison is taking Bruce Wayne on some sort of journey across time in an effort to get his ass out of the paleolithic period and back into his Batcave. This week Morrison is rocketing off the first issue of Batman: Return of Bruce Wayne. It's a six-issue mini-series, and Bruce Wayne is going to jump from time period to time period throughout the series. From the first issue where he totally looks like some shitty 1980's WWF character to life as a swashbuckling douche, we'll get to see him in various times.
Man, I'm tired of time travel. Between Captain America: Reborn, LOST, and even last week's Astonishing Spider-Man/Wolverine I've had my fill. But now I have to watch as Batman runs around and gives DDTs to apes and dinosaurs and shit? I don't know man, I'm not excited. Maybe the mini-series will kick-ass, maybe it won't. But if there was ever a time when having Batman punch a T-Rex in the nose was a novel idea, we're far, far from it at this point.
—-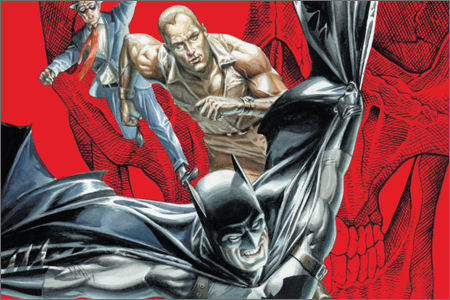 First Wave #2
Also dropping in the DC Universe this week is First Wave #2, which is the retro re-imagining of the DC Universe. The first issue, which came out a couple of months ago, was pretty dope. Sort of. I can't really remember it, but I enjoyed seeing the noir take on the universe, and I was eagerly awaiting the second issue. And waiting. and waiting. And now it's here. Get some! Not to be undone, the second War of the Supermen comes out this week, and hopefully it's better than the first. The first issue merely reminded me why I hadn't been reading Superman titles the past couple of years, so egg on my face.
—-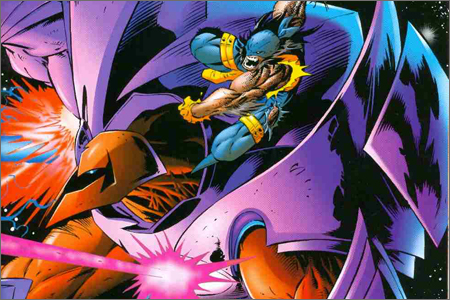 I can't be the only person who is burnt out with all the events going on, can I? I'm still trying to catch my breath after Blackest Night, and now we're getting hit with both War of the Superman and The Return of Bruce Wayne. Sweet Jesus Christ, let me catch my breath! And over in the Marvel Universe, they're already rolling out news of their next event, Shadowland.
I can't tell if it is willful forgetting, or if back in the day they actually let a comic book universe go two or three months without having to introduce some sort of catastrophe or mind-warping adventure. Maybe it is just some sort of selective memory. I mean, Onslaught ran into Heroes: Reborn ran into the Heroes: Return, et cetera. Perhaps it's part and parcel for such an existence.
—-
Siege #4
Speaking of events, Siege concludes this week. And I have to tell you, as far as mega-event-action-flick-experiences go, Siege is where it is at. At four issues, it's nice and short. And since it began, it's been nothing more than a bunch of super-powered dickheads punching one another in the face. It has everything that I personally look for in an Event Book: explosions, proclamations, and overwrought death scenes. If you're looking for something with more substance, then Siege isn't going to do anything for you.
There's titles that you may enjoy, like Blackest Night. But if I had to spend another issue of Blackest Night with some community college pontificating on life, death, and existential crisis, I was going to vomit all over myself.   I'll take an event with no pretense, one that just lets you get to what you want to see anyways: capes elbow-dropping one another.
This issue of Siege is the culmination of not only the previous three issues, but also of the last seven years of the Marvel universe. From Civil War to Secret Invasion to the Scarlet Witch being batshit crazy, everything has been pushing the universe in this direction. And finally, finally, finally, we're going to get to see Steve Rogers, Iron Man, and Thor rock out together once again. Yeah, I'm a sucker for the status quo, alright? I'm stoked.
Hopefully in the middle of them getting back together, they can put a shield, repulsor ray, or Mjolnir through the skull of the fucking Sentry. Jesus Christ, I'm tired of that guy. Dude needs to take prozac and stay the fuck out of my universe. Yeah, I get it, you're tortured. You're the Void. Hopefully you're dead.
—-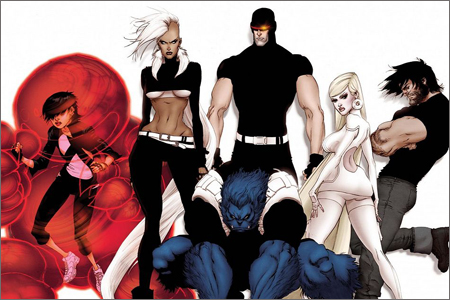 Astonishing X-Men Xenogenesis #1
The gods of the Marvel Universe bring us this absurd title this week. Of course, I mention it because it was written by my Dark Lord and Master, Warren Ellis. The pencils are provided by Kaare Andrews who wrote and penciled the Dark Knight Returns-esque title Spider-Men: Reign a couple of years ago. The oddity of Ellis' writing and the unique flare that Andrews brings in his art will hopefully bring the rock when it comes to this title. 'Cause as much as I dig Ellis, I wasn't really feeling his first run on Astonishing X-Men.
If these titles don't quench your first for panels, there's also the final issue ever of Dark Avengers, which may be worth picking up just to celebrate its demise, and of course your requisite Spider-Man and Deadpool titles.
—-
What are you guys reading this week?