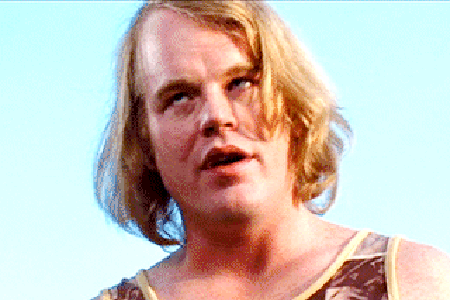 Am I being too mean when I say that despite liking him as an actor, I've always gotten the vibe that Philip Seymour Hoffman needs to get the fuck over himself? For that reason I can't see him taking this role. It's a frannnnnnnnnnnnnchise.
Well, the folks at Lionsgate are nothing if not ambitious. With big names like David Cronenberg, Alfonso Cuaron and Alejandro Gonzalez all on their wishlist to fill the director's chair for "The Hunger Games: Catching Fire" after Gary Ross exited, they've since settled on Francis Lawrence. But there's still some casting to be done on the sequel and they're taking another big swing and hoping it'll connect.
The eagle eyes at Bleeding Cool have noticed that both Deadline and Variety have dropped the little nugget that the studio wants Philip Seymour Hoffman for the role of Plutarch Heavensbee in the sequel. Who is this character? Since this writer never read the books, to The Hunger Games Wiki we go! Essentially, he's the new Gamemaker after Seneca Crane gets executed after the events of "The Hunger Games." This makes us pretty depressed we won't be treated to more wicked facial hair from Wes Bentley, but we suppose Hoffman isn't a bad upgrade. At all. But that's only if he takes the part…

….And we kind of doubt that will happen. Generally speaking, Hoffman doesn't go the franchise route, though "Mission: Impossible III" and "Red Dragon" are the exceptions to the rule. We suppose he could possibly be swayed but something tells us the allure of Francis Lawrence isn't all that great. But then again neither is Brett Ratner, so who knows. And it's just as likely that the appeal of working with folks like Jennifer Lawrence and Woody Harrelson could counter that. Guess we'll have to see.
What are your thoughts, intrepid souls? Dude can act. I wouldn't turn him down in anything, I just don't see it happening.