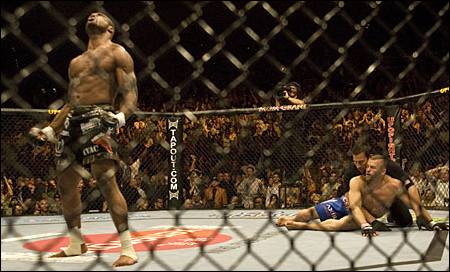 Jesus sweet Christ, I turn my back on MMA news for like one day and I miss Rampage Jackson retiring? Over a fucking role in the A-Team movie? Dana White was understandably pissed when Rampage had to delay his fight when Rashad Evans over some shitty movie. So Dana talked some shit. And Rampage? Oh yeah, he quit.
Via Cagewriter:

…so I'm done fighting. I've been getting negative reviews from the dumb ass fans that don't pay my bills or put my kids though college. So I'm hanging it up. I'm gonna miss all my loyal fans but hopefully they'll follow me to my new career & I will gain more loyal fans along the way. & all you hater fans out there can kiss my big black hairy [expletive]! & anybody that don't like what I just said can come try to kick my [expletive]!
What the shit? Rampage isn't my favorite fighter – that would go to Black Neo, aka Anderson Silva. But he's the funniest dude going in the octagon, and every time they get a microphone near him you're about to witness comedic gold. Not to mention I'd be sweating his fight with Rashad Evans for the past seventy-nine months. Now the dude is hanging it up so he can act? Whatever Rampage is sniffing, the goods are potent, and I probably want some.
This blows.
Hopefully this is just a tough-dude throwing a sissy-fit. Because I've seen your future, and I don't think you're going to make it rich playing the titular role in The Scorpion King IV: Black Scorpion Voodoo. Please baby, come back.