'Everything Everywhere All at Once' Is First A24 Film to Earn $100 Million Globally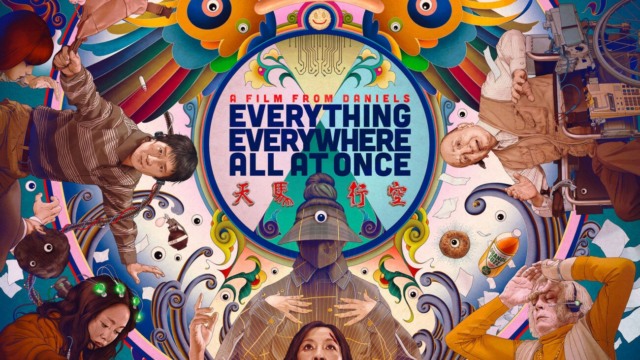 Oh fuck yeah, here's something I liked today. Everything Everywhere All at Once is the first A24 movie to earn $100 Million globally, motherfuckers! What a goddamn triumph both artistically and financially! If you ain't seen this shit, do it. Do it now. You've already failed, but your ignorant consumer soul is not beyond redemption. I mean, sure, there are an infinite amount of Yous that have seen the movie across the Multiverse, but I'm speaking specifically to you here. YouPrime. At least from my perspective.
Everything Everywhere All at Once goes where no A24 film has gone before.

Variety reports the mind-bending multiverse movie, directed by Daniel Kwan and Daniel Scheinert, collectively known as Daniels, has eclipsed $100 million globally, a first for the studio behind the Oscar-winning films Moonlight and Lady Bird. The film has also earned $68.9 million domestically. It becomes A24's highest-grossing title in the United States, surpassing the Adam Sandler-led Uncut Gems. Hereditary remains the studio's most successful international earner with $79 million.

Everything Everywhere All at Once managed to push past the century mark, thanks to a re-release this weekend which included eight additional minutes of outtakes and a pre-recorded message from Daniels, who previously wrote and directed 2016's Swiss Army Man.

The historic moment for A24 comes at a time where the overall domestic box office was quite underwhelming. DC League of Super-Pets earned $23 million in its debut week to take the weekend crown, per Variety. With a voice cast that includes Dwayne Johnson, Kevin Hart, John Krasinski, Keanu Reeves, and more, Warner Bros. was hoping for a better return from the animated movie, which has a long way to go to match its $90 million budget.

Jordan Peele's latest movie Nope fell to second with $18.5 million, a 58 percent decline from its opening weekend sum. It has earned $80.5 million domestically in its first 10 days, and appears to be in good shape to become Peele's third straight film to push past $100 million in the United States.