'Hellraiser' Remake is officially dropping on Hulu. May its suffering be legendarily awesome!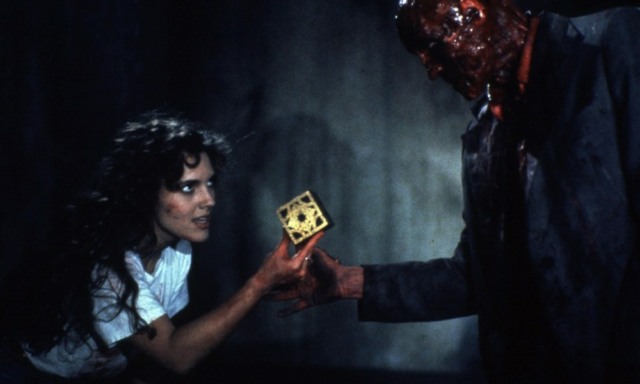 The Hellraiser remake is continuing to bound through time, space, and conceptions of pain to puncture our reality. The son of a bitch is officially coming to Hulu, and hey why the fuck not. Normally I'd be hesitant about remaking one of my favorite movies, but its director David Bruckner is super fucking solid. As well, if it sucks? Fuck it! No harm, no foul.
Hulu has solved the puzzle box, acquiring the forthcoming Hellraiser remake from Spyglass Media, Bloody Disgusting learned today.

Announced last spring, David Bruckner, who will see his festival hit The Night House release this Aug. through Searchlight, will bring upon the return of the Cenobites from a screenplay that reteams him with Night House's Ben Collins and Luke Piotrowski.

Bruckner helmed Netflix's The Ritual as well as sections of Bloody Disgusting's horror anthologies V/H/S and Southbound. Collins & Piotrowski were also behind our V/H/S spinoff, SiREN, as well as the phenomenal coming-of-age thriller Super Dark Times.

The original Hellraiser was written and directed by Clive Barker, an adaptation of his own novella, The Hellbound Heart. As previously explained by The Hollywood Reporter, the 1987 indie "introduced audiences to a puzzle box that opens a gateway to a horrific world and unleashes Cenobites, mutilated beings dedicated to torture and led by one nicknamed Pinhead."

A "Hellraiser" series is also in the works at HBO Max with David Gordon Green (Halloween, Halloween Kills) directing the pilot and "several more initial episodes," and Michael Dougherty (Trick 'r Treat, Krampus, Godzilla: King of the Monsters) writing alongside Mark Verheiden ("Battlestar Galactica"). Clive Barker will executive produce. It's unclear how involved Barker will be in the feature remake.

Spyglass is behind the next Scream with other V/H/S and Southbound filmmakers, Radio Silence, who also helmed the hilarious horror comedy Ready or Not.