Chinese Firefighters Have Been Issued Exoskeletons To Kick Fires' Asses Better. The Future is Fucking Wild.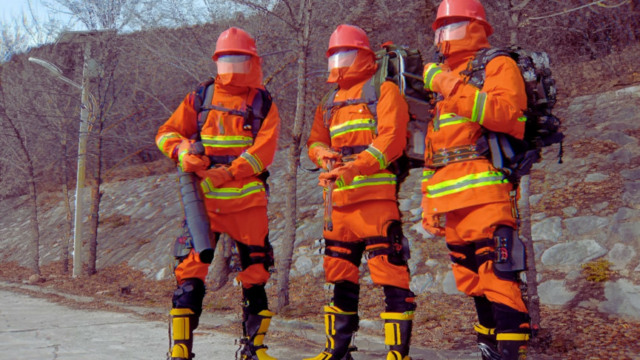 What the fuck is this? Exoskeletons are already out there in the world? I want a fucking exoskeleton. Not even for doing dope shit like these Chinese firefighters. I could use one for like going up the stairs at this point, with my creaky-ass bones and stoner lung capacity. I mean, I get that they're doing more important things with them. But still, rocking an exoskeleton on a late day dog walk? Fucking hell yeah.
Powered Exoskeleton
A Chinese manufacturer has delivered its latest powered exoskeleton system to firefighters, state-owned news agency Global Times reports.

"This exoskeleton system will be applied to enhance a firefighter's weight carrying capability to up to 50 kilograms, facilitating their movements in complicated environments such as mountain areas and in the woods," developers at the state-owned aerospace contractor China Aerospace Science and Industry Corp (CASIC) told Global Times.

The suit was developed by the Human Function Enhancement Technology Research Center under contract with CASIC. It weighs just 11 pounds, thanks to a carbon fiber structure, and is reportedly able to save firefighters more than 50 percent of the energy expended while doing a number of different tasks, including walking, climbing, or carrying heavy loads.

Saving Energy
The exoskeleton is the answer to a call by China's State Council for a national emergency plan for forest and grassland fires. It's actually not the first time we've seen a system like it in action. A similar product, developed by the same firm, allowed workers to more easily traverse the snowy landscape while picking up lunar samples from the Chang'e-5 probe that landed in Inner Mongolia back in December.

The company has also delivered exoskeletons for use in high-altitude regions where goods being carried on foot can feel like they weigh much more due to a lack of oxygen.

It's yet another sign that exoskeletons, both powered and unpowered, are becoming an increasingly widespread tool.