So These Are Comic Books (8.12.2020) – Grafity Has A Hold Of Us All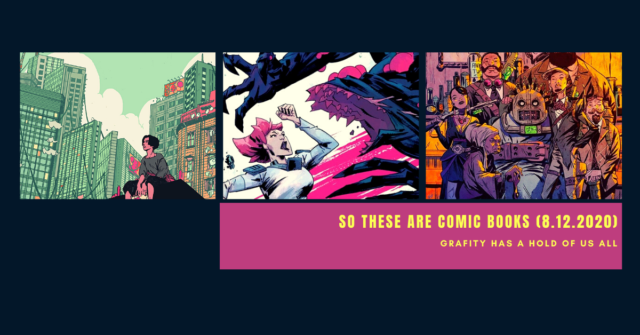 Back on that comic grind, back on that comic grind! Mamma mia, can I really keep up this column, So These Are Comic Books? It seems that way! But Ian, let's not start sucking our dick already. I mean, right? Four weeks ain't a solid commitment, and my dick ain't anywhere near my lips. Fucking mediocre dong. Fucking inflexible ass. Still though, it's a nice avenue for blabbering, blathering, and overall venting of my textual diarrhea. Gotta empty the ass, or the ass chakra gets too full. Begins backing-up. Flooding into the body. Causing delirium. Need them chakras clear. Need them chakras clean. If not, can I truly ascend the Astral Ladder on a Friday evening?
— and by that, I mean, get adequately high and watch horror movies? No way! No Jose!
None the less, enough about my ass. This is a comic books column, and let's just stay the course. Whatever the fuck that course is, was, or will be. You know? Oh, you know!
Maybe, maybe I'm just stalling. 'Cause I'm in a bit of a pickle here, this week. I'm at the stage in the comic book game where I'm struggling to piece together a pull-list. Meanwhile, I'm finding myself with an odd collection of installments in the comics worth checking out. You know how it goes. You hear about a comic book four-issues in. You saddle up to the comic book store's wall of choice. Then you find that they have like, issues #1 and #3 of one comic series you're interested in. As well, they got like issues #2 and #4 of another. And what the fuck are you left with? A patchwork of comics that seem interesting, but you can't dive into yet.
Of all the things I missed about comics, I certainly didn't miss the unpredictability of what is stocked, or the frustration at not being able to find a title you want. It really fucking ground my gears last week, when the comic shop didn't have Strange Adventures #4. Ain't no fault of the owner, dude is solid as fuck. Rather, it's DC going alone on their own distribution, shorting the shop, and I didn't get my sub request in on time.
Fuck me! Fuck me sideways and cram it in my ass.
Anyways, what I'm trying to say is that I'm really in-between recommendations this week. At least, as far as shit that dropped on the Scared Wednesday. But, I got a couple of things that caught my eye, and one glorious gift from Johnny Hotsauce himself.
Per usual, help me thicken, help my pull-list throb in the comments section.
—-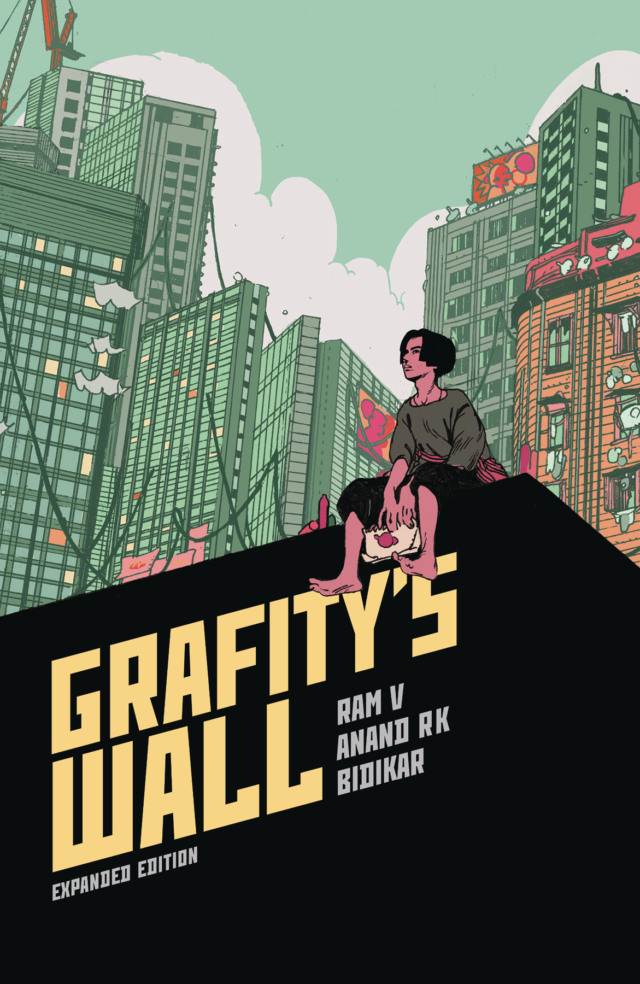 [Grafity's Wall TPB]
I was damn turned-on to Grafity's Wall courtesy of a damn good interview over at Comics Beat by Gregory Paul Silber. The comic seems like my motherfucking jam. A slice-of-life title that plums the depths of existing within the slums of Mumbai. The jam follows four characters as they try to navigate life within Mumbai. I'm a sucker for these more grounded titles, as I think the exploration of race, in this case I imagine caste, and existence can be rewarding as fuck. When I say mundane, I mean in juxtaposition with like, Robots, Space-Ships, and Quantum Leaps. Though, I think science-fiction is at its best when it's exploring these sort of similar tropes.
So, fuck it. I went-in and bought the TPB on Comixology. Going digital is always a step-short of a a jimmy kick for me, but the hardcore is going for like $70+ or some shit on Amazon. I'd rather read it under less ideal conditions than not it at all.
Additionally, this motherfucker has turned me on to writer Ram V. A quick look at his bibliography has guided me towards Paradiso, which does, in fact, seem to be absolutely my sort of science-fiction jam.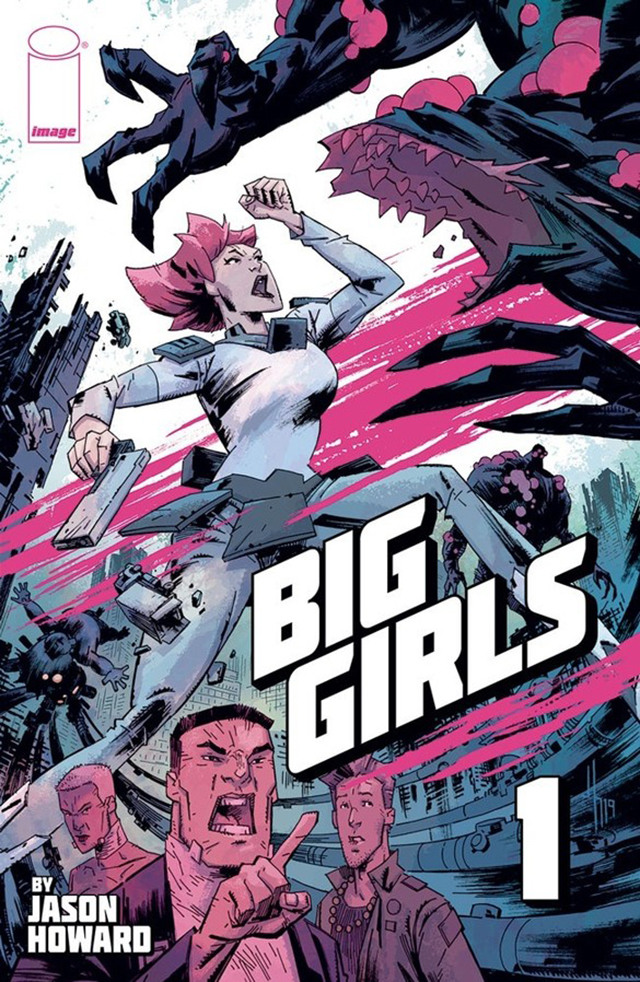 [Big Girls #1]
Okay, motherfuckers! If you thought I wasn't going to tug at the drawstrings of science-fiction and take it into me this week, you're dead goddamn wrong. Jason Howard (who did the rad-as-fuck artwork for Trees) is hanging a new series on our asses. It's collecting a panoply of positive-ass reviews, and it's right up my goddamn alley, including this one from Monkey Fighting Robots. Let's cut to the chase, slice to the wick, right? The title is about a world where motherfucking men have turned into Kaiju and it's up to Ember and other Big Girls to stop them. This Ember? Yeah bro, she's "writes poetry, loves to read, and she's a 300-foot-tall full-time monster killer" and shit. Like, if this doesn't get your attention, I don't know what to tell you.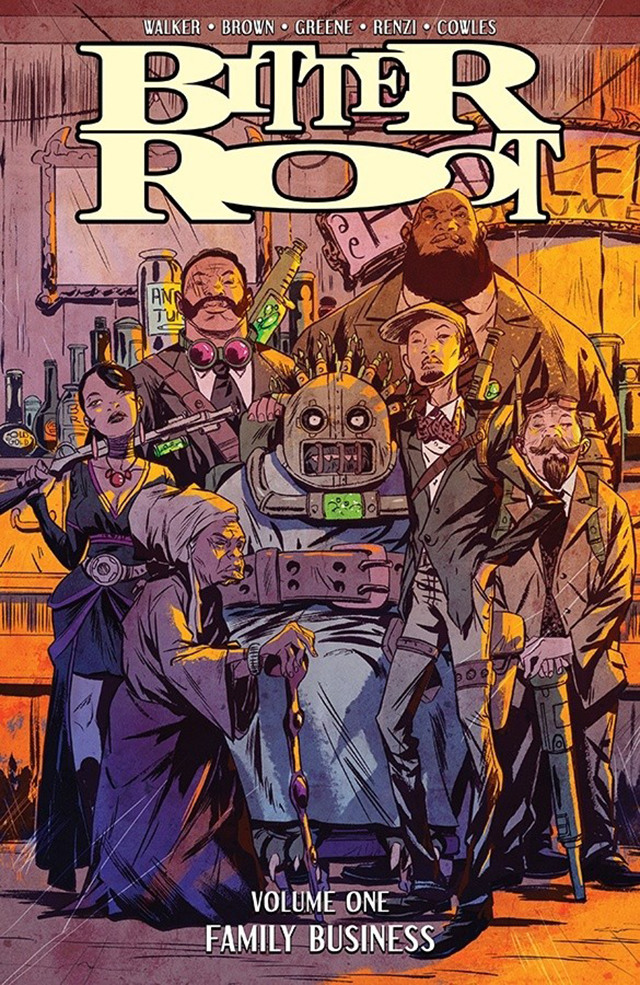 [Bitter Root Volume 1: Family Business]
Aiight, as aforementioned! The most solid of bros Johnny Hotsauce (whose recommendation for the week you can check out here) fucking gifted me this trade on Comixology. As an aside, figure your shit out, Comixology. My GMAIL caught the gift in a spam filter, and I never would have caught it without his nudging. But, fuck yes to this! As Hotsauce correctly recalled, my entire Master's Degree centered around the Harlem Renaissance, and fuck me, so does this title! The title takes place during said Renaissance, and is centered on the Sangerye family. Oh, them people? They're the world's premiere monster hunters, and it's up to them to save New York and the world.
While I ain't read it yet (fucking The Stand consuming all my reading time), I have to imagine there's a good amount of racial commentary peppered throughout. Which was 100% my jam during the halcyon days of my education. I'm excited to read it, especially coming off of stuffing Lovecraft Country into my dome-piece recently. The aforementioned novel also plumbed the depths of racism, cosmic horror, and family during the mid 1900s.
Anyways, fuck yes! And once again, thank you Johnny Hotsauce!
—-
That's it for me this week, fellow comic book comrades. Hit me up in the comments section with titles I may have missed, and more importantly, titles you think would tantalize my taint.
Hope you're well.