So These Are Comic Books (8.05.2020) – To The Farthest Reaches Of Metal We Go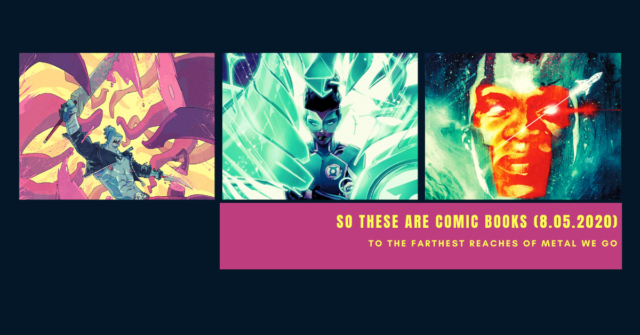 Okay friends, fuck me sideways. You know what the hardest part about getting back into comic books is? Fucking catching-up! Like, the land has begun to reveal itself to me at this point. The swollen tempests of textual glory. The rolling hills of narrative bliss. The throbbing membranes through which to pass, emerging into a world of entertainment. But holy fucking moly, is this mixed-metaphor world of glory overwhelming. You know? It's one thing to identify everything I should be reading. Surprisingly, that shit is proving rather easy. However, the real tug on the titty-clamp is purchasing and then consuming all of these worthwhile endeavors.
"This is supposed to be fun" I just bemoaned to my wife.
She looked me dead in the eyes and said "You know how many times I've wanted to say that to you?"
Okay, she didn't say it. But, I don't blame me if she's thought it over the years. At my core I'm a pudgy dude with a slug for a pud.
So these are comic books! And they're fucking rad. But Christ if I ain't playing catch-up right now. Thankfully, I don't have many on my plate for purchase this week. Which means after I finally, finally polish off The Stand, I'm just going to get cranking. Like, not cranking like you'd imagine me cranking. By the way, it's odd that you're picturing me cranking. Though, I'm sort of honored. I hope I'm shirtless in your mind. Wearing pink crocs. Fuck it, whatever. Picture me however you want.
What I mean by cranking, is cranking in the sense that I'm going to turn my ADD-powered non-focus on my currently compiling backlog.
In the meantime, here is what I'm snagging this week. It ain't much, and lord knows I'm probably missing some dope shit. So hit me up in the comments with your own Snags of the Week. Or, if you'd prefer, how you picture me cranking. Ideally wearing pink crocs.
—-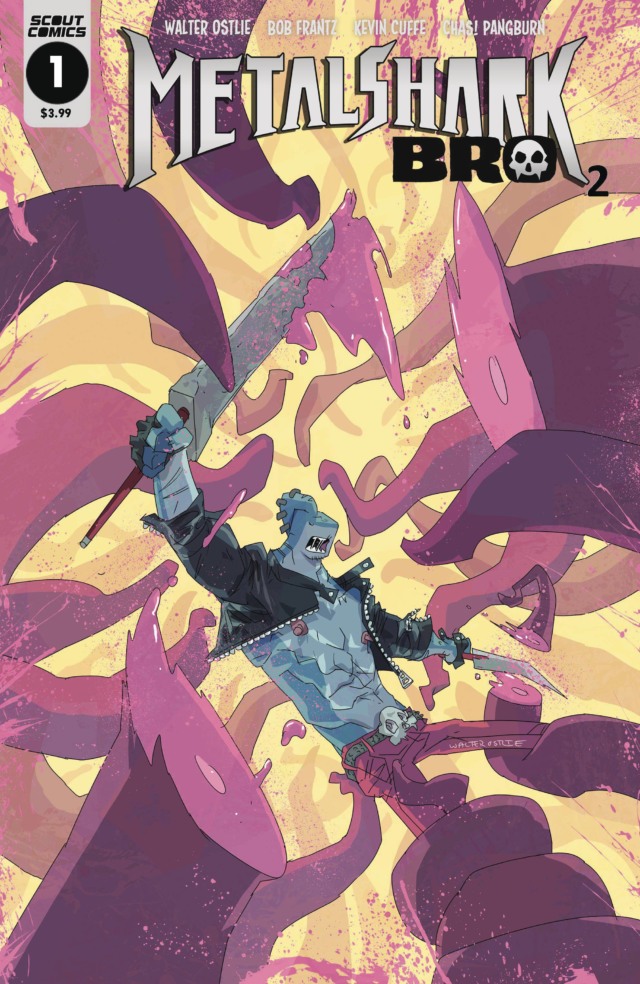 [Metalshark Bro 2: Assault on Hamzig Island #1]
Listen, if you think I'm not going to be interested in a comic book series titled Metalshark Bro, I don't know what the fuck to tell you. In my goddamn marrow is a dump high school metalhead. So while I'm more prone to hip-hop, prog rock, and lo-fi these days, the metal doesn't leave you. It's wormed its way into my soul. Changed me at the epigenetic level a long, long time ago. Now, what the fuck is a metalshark going about doing in this sequential siesta? Apparently dude is going to be fucking up Cthulhu dudes with what can only be described as a goddamn broadsword. I'm in, dude. Life is short. Listen to Testament, crush Slurpees, and jerk off to Jill Kelly. In other words, I'm channeling 1999 and snagging this title right the fuck up.
Brief aside: look at dude's nipples on that cover. Absolutely fucking devastating. The sort of nipples that belong on a sponsored Instagram post. Double-points for dude just rocking out, tits out.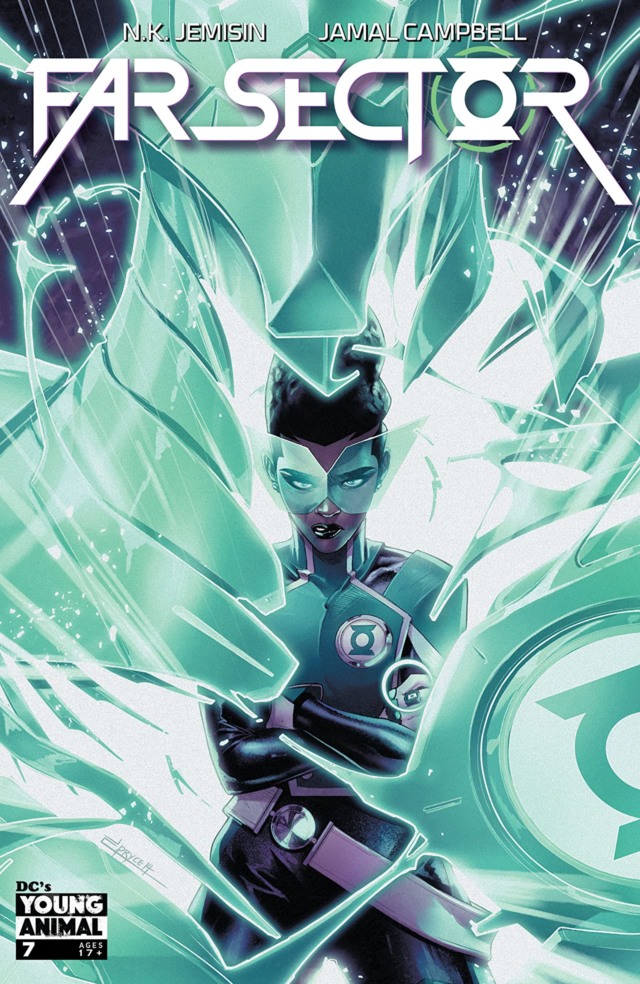 [Far Sector #7]
Another fucking title that is going to necessitate snagging an ass-load of back-ass titles. But, what the fuck can ya do? Probably wait for the trade paperback, agreed. Agreed! That said, I'm going to underscore just how voiciferiously people seem to be jizzing over this title. Those nerds over at Nerdist say it's the best comic you've never heard of. Johnny Hotsauce chose it this week. And Monkey Fighting Robots (can you tell I've been googling comic book sites every week like a motherfucker?) calls the series a thrill.
If that ain't enough to grab my ass, what would be?
The comic stars a new Green Lantern, and serves as a complete standalone. Check, and check. I don't got much Green Lantern knowledge, and what knowledge I do have is buried under a cavalcade of weed and Dead Cells builds. Maybe some esoteric JCVD knowledge. So, that really pops for me. As well, the title apparently equal parts science-fiction and social commentary regarding the tale of our times. Which honestly isn't surprising, since sci-fi usually is, and absolutely should be utilized to speak on the monstrosities of modernity.
Plus, look at the fucking artwork, dudes. Look!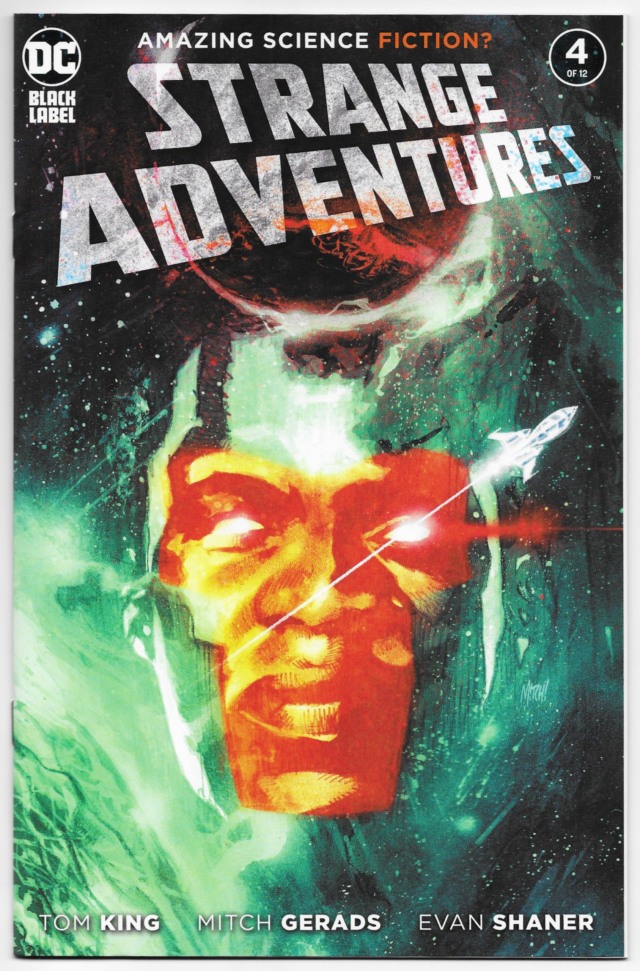 [Strange Adventures #4]
Ah fuck yeah, fellas! I know I buried the lede, but I'm most fucking stoked for this comic book. Perhaps obviously, given that Tom King and Mitch Gerads are creative team-equivalent of popping a couple of BlewChews and sprinting across the beach for me. The first three issues have set the stage for a wonderful exploration of the mundane nature of war, our own mythologizing, and really whether or not we can get at objective reality. As I said, a narrative about narratives! Is Adam Strange a war hero? Can there be war heroes? And what the fuck is up with his own construction of his time in the throes of war? How much is intentional artifice?
Motherfucking Mister Terrific is on the case, and it appears as though Strange and his wife are already fucking regretting bringing him in to vet Strange's tale.
In my limited foray back into this world, this title is my favorite thus far. The raison d'etre I even got back into this shit.
—-
Well, that's it for me! Three titles, varying degrees of metal. All of them enough to get me stoked to add three more titles to, like, my enormous backlog of beauties waiting for me. Tell me, what the fuck ya'll reading this week? What would you recommend I snag? I'm all ears, ass, and eyes.