Weekend Open Bar: It's Nudie Magazine Day!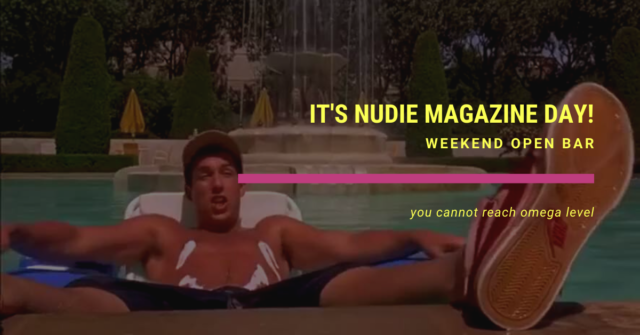 It's nudie magazine day, friends! Okay, not really. But, the fucking infectious refrain from Billy Madison is what I swing as I'm coming down the stairs every Friday. It's such a pure, tits-powered jingle that it's stuck with me throughout the years. And, I can't think of any better way to kick-off the weekend! Well, other than hanging with you motherfuckers! Ha! How is that for a goddamn segue? God-Tier. Really, just pure writing prowess. Okay, okay. I know I'm a prose-based slob, but let me have this shit!
Anyways, let's spend some time together this weekend, good friends! Right here in the Open Bar. And I must remind ya'll beautiful pricks, we ain't streaming this Saturday. Just one Saturday! Just this Saturday. A little break from our streaming madness. So, that means this is the only venue for chatting with me about nipple hairs. Or whether or not Bags using the phrase "genitals' like a sociopath is weird (it is). Neither of those topics interest you?
A) What the fuck.
B) No worries!
How about you just share what you're up to this weekend! Playing any Ghost of Tsushima? Reading anything good? Got a backlog of movies you're mowing through? I want to know! This is Weekend Open Bar. Let's hang out.