Disney CEO Bob Iger stepping down immediately and being replaced by longtime Disney exec Bob Chapek. Sure, whatever, okay?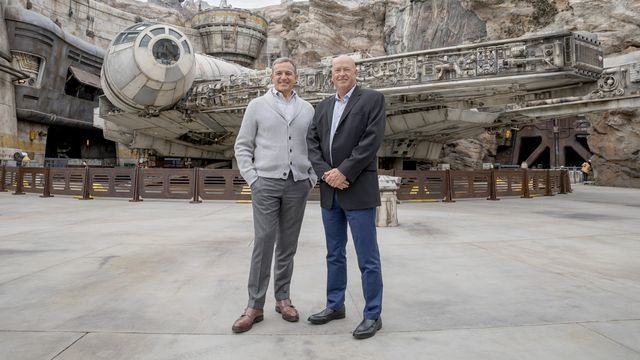 Apparently, Bob Iger is stepping down immediately as Disney CEO. Dude ain't leaving, though. He's staying on as executive chairman through 2021, and who really knows what any of these fucking wizards do.
The Walt Disney Company announced this afternoon that Robert Iger, the company's long-time CEO who ushered in the company's lush franchise and entertainment platform profits, will step down immediately as chief executive. Bob Chapek, a long-time senior exec at the company who most recently held the position of Chairman of Disney Parks, Experiences and Products, will succeed him.

Under Iger's tenure since 2005, Disney expanded aggressively into movies, theme parks, and other entertainment verticals, culminating late last year with the introduction of the company's Disney+ streaming service. Iger oversaw such dramatic acquisitions as Marvel Entertainment  a little more than a decade ago, and also bought Lucasfilm and its Star Wars and Indiana Jones series. Those decisions, among other aggressive media growth strategies, has given Disney a commanding role in the media universe.

As Jake Coyle noted in the AP earlier this year:

But in today's IP-driven movie world, one studio is in a league of its own. In 2019, Disney dominated American moviegoing more than any studio ever has before — roughly 38% of all domestic moviegoing.

The year's top five films were all Disney movies, and it played a hand in the sixth. Disney's Marvel Studios produced the Sony Pictures release "Spider-Man: Far From Home."

Since its launch, Disney+ itself has drawn almost 30 million subscribers according to data released by the company earlier this month.

It has been no secret that Iger has been thinking about succession planning for years, but at least until recently, details had remained scant. Media analysts probed for news in Iger's book The Ride of a Lifetime, which was published late last year and was a summation of his tenure at the media conglomerate and his business philosophy. Yet, finding a successor at the company has been challenging, with multiple heirs apparent departing the company when the top slot looked like it would remain locked in Iger's grasp.