Weekend Open Bar: A Cyberpunk Party, Baby!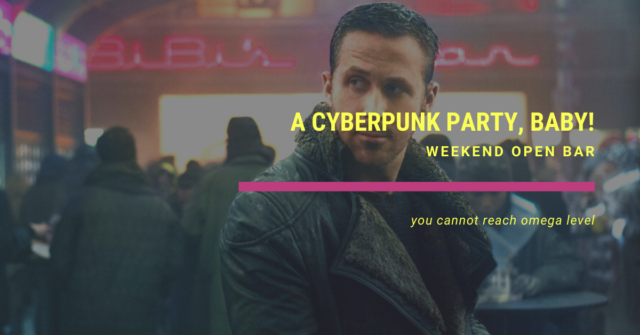 Hey friends! It's time for the Open Bar! The chance to hang out with the denizens of Space-Ship Omega throughout the weekend! In fact, it's the only place and chance to hang out with (Bateman and) me this weekend! I know, I know. Will we ever stream again?
We will next weekend!
And the following week, we got a special stream on Thanksgiving! Seriously!
But, lately life has been intervening. Holiday parties and the such! However, tomorrow night is much more gnarly. Pluto, Bateman, and I are going to see Street Cleaner and Protector 101.
What do they sound like? They sound like the soundtrack that plays as you chase a replicant through a rain-slicked Dystopia.
So, apologies! But don't grumble too much! Hang out with me here! Tell me, what are you up to? Playing Star Wars: Fallen Order? Catching-up on Watchmen? Gagging at your fantasy football line-up as you curse the concept of bye weeks? I want to know!
Pull up a chair! Pull down a drought. And let's spend time time together.
This is Weekend Open Bar!