HBO's 'Watchmen' series is debuting October 20. Tick. Tock. Motherfuckers!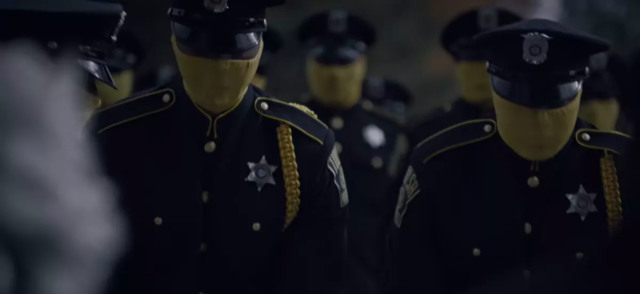 Man, I cannot wait for the goddamn Watchmen series/sequel/whatever on HBO. But, I must fucking wait. Alas, alas. At least now I know when I have to wait until. October 20.
We knew that Damon Lindelof's Watchmen series based on Alan Moore and Dave Gibbons' iconic comic was coming to HBO in October. Now we know exactly when the Regina King-starrer will debut.

October 20 at 9 PM ET – and the clock is ticking.

Directed by Nicole Kassell from a script by Leftovers alum Lindelof, the pilot for this sequel of sorts to the borderline dystopia depicted in the award-winning 1980s comic series finds an America ruled by long-serving President Robert Redford. Its an alternative 2019 America where the best intentions have seen technology curtailed, the police are now hidden by masks like the outlawed superheroes, and white supremacy has picked up the legacy of the infamous Rorschach.

The series also stars Don Johnson as the Tulsa police chief, Jeremy Irons as an aged and seemingly dispirited Ozymandias, and Jean Smart as a past Silk Spectre. The heavily radiated Doctor Manhattan is in there too, but is unclear to what extent so far.

Tim Blake Nelson, Louis Gossett Jr., Yahya Abdul-Mateen II, Hong Chau, Andrew Howard, Tom Mison, Frances Fisher, Jacob Ming-Trent, Sara Vickers, Dylan Schombing and James Wolk also star.

Watchmen is produced for the premium cabler by White Rabbit in association with Warner Bros Television, based on characters owned by fellow WarnerMedia division DC. Other creatives include executive producer/writer Lindelof, executive producer/director Kassell, executive producer Tom Spezialy, executive producer/director Stephen Williams and executive producer Joseph Iberti.