Monday Morning Commute: Once Upon A Time In Omega Level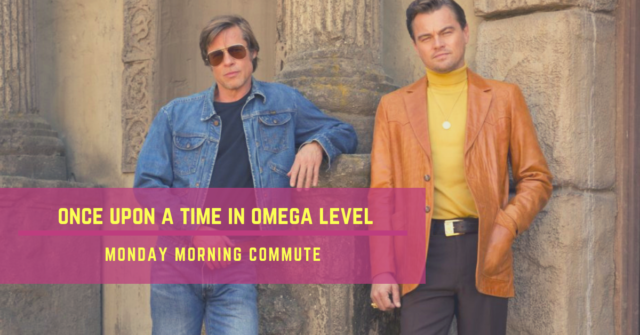 Greetings, fellow travelers upon the Space-Ship Omega! It's I, your depraved and debauched captain. Walking around, wearing only boxer briefs and a compromised smile! How are you? Me? I'm doing decent enough. Pausing for a moment, taking a good goddamn breath. It's hard to believe July is almost over. But, it's also not that hard. My word, what a fucking busy month. Went to a funeral, taught two classes, went to Denver, ate too much. However, I'm done! Done teaching, at least until September.
Thus, I'm stoked to spend this time reconnecting with you all. Here on the blog! Hopefully this weekend, on Twitch!
What are you up to this week? Playing anything? Watching anything? What measures are you taking to stay cool, as the Earth melts and hope evaporates? I wanna know!
I'll go first.
—-
Went to Denver this weekend on a friends vacation. Short-ass trip for me, having to meet up with everyone late, courtesy of teaching. But, still a damn good time. Also, it was responsible for yet another stream-less Saturday. Back this weekend! Promise!
—-
I've been playing The Evil Within 2 and fucking loving it. Been hunting for something to play, and the cult hit finally won me over. It's Resident Evil by way of The Last of Us, and I mean that positively.
—-
Going to see Once Upon A Time In Hollywood tonight! Interested to see what it holds for me. Rendar was cool on it, but cautioned that it may just be him. At the end of the day? It's still a new movie from a favorite director of mine. So, I'm stoked.
—-
Planning on snagging Wolfenstein: Youngblood this week! I was surprised to hear it was more looter-shooter than the main series entries, and this gave me pause. However, the opportunity to smoke Nazis with a friend in an Alt-1980s Paris? Too much to hide from.
—-
Most of my music consumption lately has been synthwave and synthwave-offshoots. Check out these tunes by Street Cleaner, Lazerhawk, and Maximum Love!
—-
One of the most surprising, and welcome developments this past month has been how much I've enjoyed the third season of Stranger Things. I've got like two episodes left, but, man! I'm really digging it. This is particularly noteworthy 'cause I thought the second season sucked diarrhea through a wart-covered dick!
—-
Now that Bateman is back from Madrid, and we are both back from Denver, I'm dying to catch-up on NJPW's G1 tournament. While I'm a bit overwhelmed by the sheer volume of incredible matches the tourney churns out, it's certainly a good fucking problem to have.
—-
That's it for me, fuckers! Come hang out! Come say hi! What are you up to this week?