Disney has revealed all the details about its streaming service. It drops November 12 and will cost $7. Plus! Marvel and Star Wars reveals!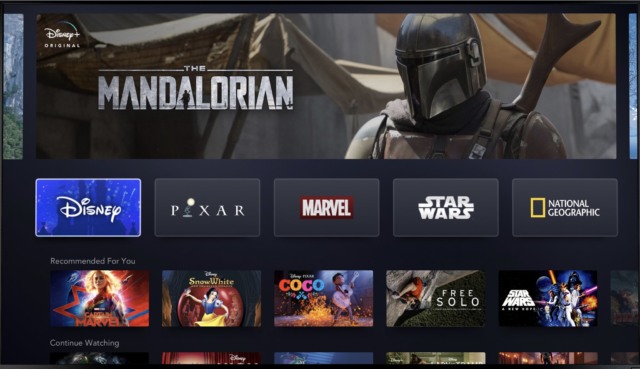 Disney dropped an entire fucking fuckload of Disney+ news tonight. The company revealed its Star Wars and Marvel Studios shows, announced a price, and also dropped its release date. Come, come children, after the jump you will find it all.
After a whirlwind deluge of announced projects and nostalgia-dosed favorites this afternoon—The Sandlot! The Simpsons! Jeff Goldblum, wandering around and being interested in stuff!—Disney has finally consented to let us all in on the pricing and scheduling details for its long-hyped Disney+ streaming project. So here are the nitty-gritties, folks: It's launching November 12, it'll cost $6.99 a month, it'll be totally ad free, and it's coming for you and your kids.

We've always known that Disney was positioning this thing as a Netflix-killer, and all of these elements conspire to make those intentions even clearer. Even as the King Of Streaming continues to slowly but steadily bump up its prices, Disney+ is coming in at an extremely attractive price-point for the amount of content that it's promising. (The company was careful to highlight all its new Marvel shows, and the two Star Wars programs currently in the works, as part of its exclusive offerings.) Meanwhile, the decision to avoid ads—and thus the various frustrations that surround, say, Hulu—means that the corporate behometh can position itself as a legitimate competitor to the streaming giant.

All that being said, Disney has made it clear in the past that it doesn't expect to recoup the reported billion-plus it's spent on this venture any time soon. Rather, this is about staking out a long-term space in the streaming space, a prospect presumably propelled along by CEO Bob Iger, who's made it clear that he expects the service to be a major part of his over-arching legacy at the company, a tenure that also saw it hoover up ever more media brands and content into its all-consuming, mouse-shaped and lightless maw.
Marvel head Kevin Feige took to the stage at today's Disney Investor Day to talk about how the new Disney+ streaming service will factor into the future of the Marvel Cinematic Universe.

The platform will be the only place where you can stream all of Marvel's films, but more than that, Feige emphasized how series featuring the Scarlet Witch, the Vision, Falcon, and the Winter Soldier will have significant impacts on the larger MCU:

"These shows will be on the same level of quality that you'd come to expect from Marvel Studios. They will be taking advantage of that creative freedom that Disney+ offers exploring the MCU, the Marvel Cinematic Universe, with our favorite characters over multiple episodes. These will be both new and continuing stories, and one of the things we're most excited about is that these will be major storylines set in the MCU with ramifications that will be felt both through the other Disney+ series we're producing and are features on the big screen."

Feige wasted no time during his presentation and got right down to the business of announcing that Elizabeth Olsen and Paul Bettany's spinoff series is to be titled WandaVision that will tell "a story that is unexpected and surprising" that couldn't be told as a mere subplot within a larger film. Feige continued be describing The Falcon and the Winter Soldier (which Anthony Mackie and Sebastian Stan are both reprising their roles for) as a series that'll explore the supporting heroes' lives outside of their time with the Avengers.

But the Disney+ series' connections to the MCU won't only be grounded in the realm of hard set realities. Feige went on to lay out Marvel's vision for its upcoming What If? animated series that'll explore a number of alternate timelines in which pivotal moments from the MCU played out differently:

"For instance, our first episode will ask the questions: what if Peggy Carter was the one who became a super soldier and what if Steve Rogers stayed a scrawny, young kid but joined the fight with an armored suit built by Howard Stark? This gives you the sense of how he plan to explore the MCU and fresh and exciting ways in the series. in addition new and returning cast members will be lending their voice to their animated counterparts."

Feige added that the Disney+ Loki series will be so large, and history-spanning in scale that its story is really something that could only be told over the course of a longform story, which really makes it seem as if when these series launch, they're going to be required watching for MCU completionists.
The Mandalorian, Disney and Lucasfilm's first live-action Star Wars television series, will be leading the charge as part of the first offerings available on Disney+.

At the Walt Disney Investor Day presentation today, Disney gave the first preliminary details of Star Wars' presence on the upcoming streaming platform Disney+. Alongside The Mandalorian initially, digital versions of the original and prequel Star Wars films, as well as The Force Awakens and Rogue One, will be available on the service, with The Last Jedi and Solo following at a later date. Star Wars: Episode IX, set to be unveiled at Star Wars Celebration in Chicago tomorrow, will join the films after its home release sometime in 2020.

Lucasfilm president Kathleen Kennedy took to the stage to confirm several new details about what fans can expect of new Star Wars content on the platform. First, Alan Tudyk, who played the sarcastic re-programmed Imperial security droid K-2SO in Rogue One: A Star Wars Story, will reprise his role in the previously unveiled but still untitled Cassian Andor show, starring Diego Luna. No further details were revealed beyond the fact it is a "thrilling spy series in the Star Wars universe," which is unsurprising, given that Cassian and K2 are, well…Rebel spies.

Kennedy also confirmed that beyond The Mandalorian and the Cassian show, there are more Star Wars shows currently in development, both live action and animated—the latter of which includes the upcoming new season of the beloved Star Wars: The Clone Wars, announced back at San Diego Comic-Con last year as bringing a full conclusion to the show's saga out of previously unfinished storylines, following its cancelation when Disney purchased Lucasfilm in 2014. Beyond new Star Wars stories, Kennedy also confirmed a new, untitled behind-the-scenes documentary series that will put the spotlight on the craftsmen and designers who help bring the Star Wars movies to life.