Weekend Open Bar: Body Slam The Holiday Rush!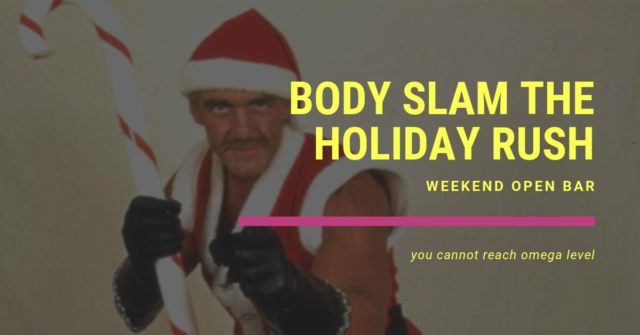 Hey, friends! It's me, the Captain of the Space-Ship Omega welcoming you to the beginning of the Holiday Gauntlet. No doubt, it can be a wonderful time of the year. Yet, it can also provide an impressive cavalcade of social obligations, forced-monetary expenditures, and rolling darkness. What to do, what to do? Well, for starters take a fucking breath.  Then, pull up a chair around the cosmic-hearth here on the ship. You can take refuge here in the Weekend Open Bar! Herein you'll find like-minded folk shooting the shit about their weekend.
Perhaps this weekend the conversation will center on how much money we spent on Black Friday deals. And the shotgun dropkicks we gave the elderly to procure said deals. Or, maybe we enumerate the various caloric depravities we've indulge in. Anything and everything goes, so long as the golden rule is not violated:
Thou shall be chill.
So, come, come, friends. Tell me, what are you up to this weekend, at the beginning of the Holiday Gauntlet?
This is Weekend Open Bar.