Monday Morning Commute: Wherein We Eat Too Much and Be Thankful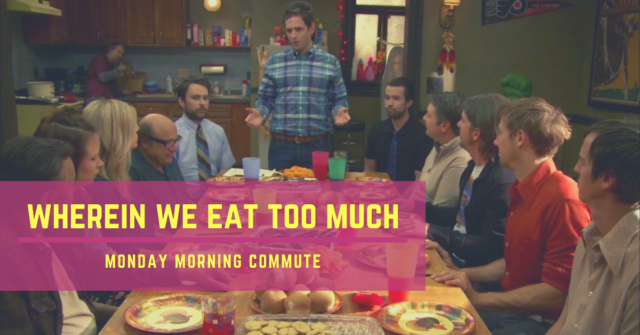 Hey friends! This begins one of my favorite stretches of the year. The Earth may be dark, yes. But, I'm spending this time of year blessedly sharing cozy rooms with too many calories, and loved ones. And, y'all are some of those loved ones as well! If the Space-Ship Omega is a small community, it's certainly one that I count myself lucky to belong to. So, saddle-up next to the fire, and spend some time with me this week.
Here, at the Monday Morning Commute!
Tell me, what are you doing for Thanksgiving break?
Are you hitting the movies at all?
Using some (hopeful) time off to catch-up on some video games?
I want to know! I want to spend some time. The Earth is dark but the fire is warm, let's hang out.
Seeing: Widows
Okay, fuck. I didn't see widows last week. Here's hoping next weekend I correct this.
—-
Playing: Red Dead Redemption 2
I get the impression I'm going to to be able to tell you I'm playing RDR2 every week for the next six weeks. But, I'm able to steal and sell stagecoaches in the game name. Which means I'm going to spend so many goddamn hours during break doing so.
—-
Getting: A Fucking Christmas tree
Yeah, I don't give a shit! I want to dive ass-first into Christmas season this weekend. Only God can judge me, and he doesn't fucking exist! Suckers!
—-
Listening: BROCKHAMPTON
Man, I'm still bumping BROCKHAMPTON.
—-
Eating: Too Fucking Much
Yeah, I'm a bit worried about the damage I'm about to unleash upon the dinner table, the toilet bowl, and my internal organs this week. But, if there's ever a fucking time to do so, it's this week. Right?
—-
Watching: Homecoming
I must admit, I'm hiding from finishing Homecoming because it's super fucking stressful in its narrative. Like, scared of whatever climax is coming. I'm usually scared of whatever climax is coming, you know?
—-
Getting: A Dishwasher
Jesus fuck, yes. My privileged ass is getting a new dishwasher tomorrow. It's been two years, and a lot of half-assed scrubbings, and tomorrow that ends. I am embarrassingly excited.
—-
Eat: Ass, Smoke Grass, Sled Fast
You heard the kid, dickheads!
—-
Seeing: Trans-Siberian Orchestra
There was a span where I saw TSO like fucking three times in three years. At that point, I swore them the fuck off forever. But, it's been like a decade. My brain-apparatus is refreshed. I'm ready for Christmas Metal set to a wild light-show. Also, I'm going for free and sitting in a corporate box. Like, that's a bonus, right?
—-
Watching: Creed II
Despite the fact that Ryan Coogler isn't involved, and it seems like a formulaic cash grab, I'm going to end up seeing this movie. Because I believe in nothing, and I want to stare at Michael B. Jordan's pectoral muscles for two-hours. Plus, I mean, a feel good, delusionally hopeful movie during Christmas time makes sense.
—-
That's it for me! What's up this Thanksgiving week, friends? How you doing? What are you doing?