BioWare sneaky teased a new 'Mass Effect' game last week and its got me deep in my feelings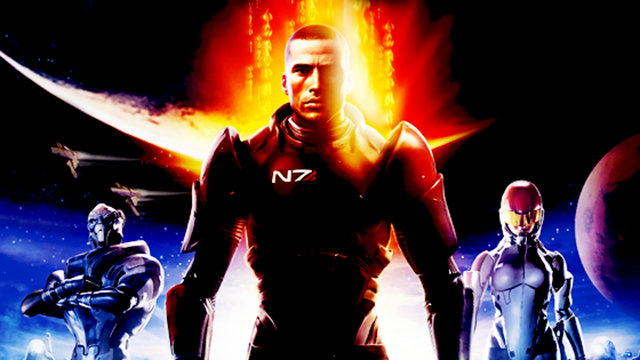 Back in the day, Mass Effect was one of my favorite franchises. The first two games are personal GOAT contenders, and while the third one let me down, I still miss it. You can imagine then that I was fucking stoked when Mass Effect: Andromeda dropped last year. However, the title turned out to be raw fucking ass, and after that I wasn't sure we'd see Mass Effect again. But, good news. Last week on N7 day, BioWare sneaky teased a new title in the franchise.
The Mass Effect franchise is currently in a state of suspended animation following the lackluster showing by the series' fourth game, Mass Effect Andromeda. But there's still a big Mass Effect following out there, and developer BioWare knows it–that's why it acknowledges November 7 each year as "N7 Day" with some messaging to fans to remind them of their experiences trying to save the Milky Way Galaxy from the Reaper threat.

And it seems like BioWare boss Casey Hudson just used the studio's N7 Day Twitter post to hint at the future of Mass Effect.

BioWare posted a short video on Twitter mostly made up of people from both the studio and the fan community talking about why they like Mass Effect. It also includes an announcement that the studio turned out a free update for Andromeda on Xbox One X that improves the game's graphics.

What might be the most interesting part is the ending, though, where Hudson makes a statement laden with innuendo: "It means coming into the studio every day, dreaming about what the next great Mass Effect game will be."

Then he stares right into the camera for a long moment as he sips from a Mass Effect mug with the famous Commander Shepard line, "I Should Go," stenciled on the side. What does it mean???

Maybe nothing. After all, it's not like BioWare or its owner, Electronic Arts, ever said Mass Effect was officially canceled–but single-player DLC for Mass Effect Andromeda never materialized, despite some clear setups for some in the story, after that game received a rough reception from both fans and critics. BioWare has been putting its efforts into Anthem, its open-world sci-fi multiplayer game, which is set to release in February.

It sure does seem like Hudson's lingering look at the camera is a meaningful wink to fans, letting them know that the Mass Effect series hasn't been killed off in a boardroom somewhere. And in a blog post in August, Hudson noted that BioWare knows fans want more Mass Effect (and more of its fantasy franchise, Dragon Age), and said the studio has people working on "secret projects," even though he wouldn't enumerate what they might be. So that meaningful look seems like a playful reminder to fans on N7 Day that BioWare hasn't forgotten about them.