The Mars Curiosity Rover is operational again, baby! Ain't got time to die!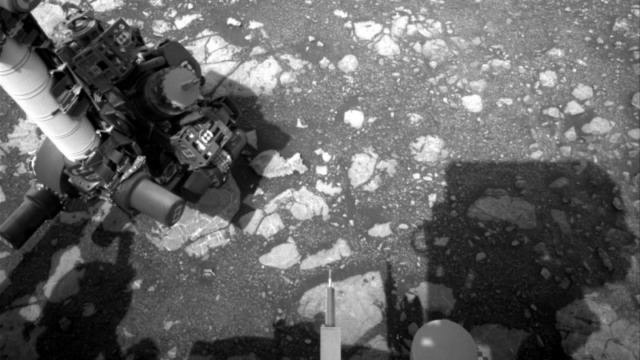 Curiosity is back up and running, motherfuckers! Granted, its limited in its operations. But that's better than nothing, no?
NASA has had quite a bit on its plate recently between its Hubble Space Telescope entering safe mode, the prolonged silence from its Opportunity rover, and a technical issue with its Curiosity rover on Mars. But one bright spot appears to be the return of some science operations by Curiosity following a memory anomaly last month. While it's not totally back up to full operations, Curiosity will be able to transmit data to its team while they work on its recovery.

Sharing the news in an enthusiastic post on NASA's website on Friday, the Curiosity team announced that it had made progress on diagnosing an anomaly that occurred in mid-September. After its engineers switched the rover back to its A-side computer, the Mars explorer was able to send back an image of the Martian surface at Vera Rubin Ridge utilizing a camera it hasn't used since 2013.

"Thanks to our hard-working engineers, Curiosity is ready for limited science operations while the anomaly work continues," NASA said.

Curiosity, which explores the planet's Gale crater, is currently using its A-side computer until the team is able to determine the cause of its glitch. The rover swapped to the B-side of its two redundant computers after its A-side became corrupted back in 2013, about 200 days into its mission. Earlier this month, engineers at NASA's Jet Propulsion Laboratory commanded the rover to switch "brains" in order to allow the Curiosity team to do a full diagnosis of the issue that had been affecting its memory since September 15.

"We spent the last week checking out Side A and preparing it for the swap," Steven Lee, Curiosity's deputy project manager, said in a statement at the time. "It's certainly possible to run the mission on the Side-A computer if we really need to. But our plan is to switch back to Side B as soon as we can fix the problem to utilize its larger memory size."

The car-sized Martian rover was launch in 2012 as part of NASA's Mars Science Laboratory mission. It had a busy couple of months just before its glitch, taking a Martian selfie in September and finding 3.5-billion-year-old organic compounds in June. Earlier this year, it captured a stunning panorama of Mars from the top of Vera Rubin Ridge.

Answering questions from its followers on Twitter, the Curiosity team also tweeted Wednesday that there is currently no update on the Opportunity rover (or "Oppy," to which it's often affectionately referred), which powered down in June in Mars' Perseverance Valley after getting swept up in a massive dust storm that may have blocked its solar panels with dust.

In response to questions about Opportunity's status, the Curiosity team pointed to the Red Planet's upcoming windy season as a potential fix, as NASA said last week it hopes the wind may be able to clear the dust from its panels to help it get charged and back up and running, if that is indeed the issue.