Russo Bros. would be interested in a 'Secret Wars' movie after Fox/Disney deal goes through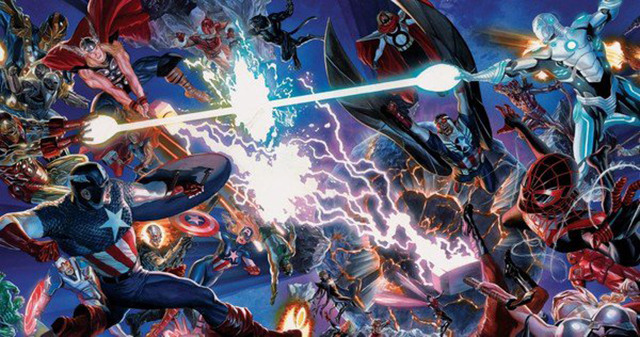 Man. Russo Bros., I assume you're just spitballing here. But, don't fucking play with my heart. I would goddamn love if you dudes chaperoned a Secret Wars adaptation.
Disney's bid to purchase key entertainment assets from Fox would open up the possibility of previously unavailable Marvel characters, including the X-Men and Fantastic Four, joining the Marvel Cinematic Universe. If that deal goes through, Avengers: Infinity War directors Joe and Anthony Russo know what major comics event they'd like to see adapted next: Secret Wars.

"If that Fox deal goes through with Disney, there's a lot more characters to work with all of a sudden. It would be interesting to do something like 'Secret Wars,'" Joe Russo told French publication Linternaute.

The publication doesn't specify whether Russo was talking about 1984's original Secret Wars arc by Jim Shooter, Mike Zeck and Bob Layton, or 2015's Secret Wars by Jonathan Hickman and Esad Ribić. The former was a massive crossover event that saw different heroes and villains brought to fight on Battleworld. The latter, however, might be more appropriate to combining universes, as 2015's Secret Wars saw Marvel's classic "Earth-616" universe merge with the Ultimate Universe.

The Russos also don't comment on whether they would direct the still entirely theoretical film, with Anthony claiming that they've been so focused on Avengers: Infinity War and the subsequent fourth Avengers film — which will also be their fourth Marvel Studios film — that they haven't really thought about the future yet.

Directed by Joe and Anthony Russo, Marvel Studios' Avengers: Infinity War stars Robert Downey Jr., Chris Evans, Chris Hemsworth, Mark Ruffalo, Jeremy Renner, Scarlett Johansson, Paul Bettany, Anthony Mackie, Paul Rudd, Elizabeth Olsen, Tom Holland, Benedict Cumberbatch, Chadwick Boseman, Chris Pratt, Zoe Saldana, Dave Bautista, Bradley Cooper, Vin Diesel, Tom Hiddleston and Josh Brolin, among others. Avengers: Infinity War opens April 27, 2018.