Ta-Nehisi Coates is writing 'Captain America' starting on the Fourth of July and I don't know what to think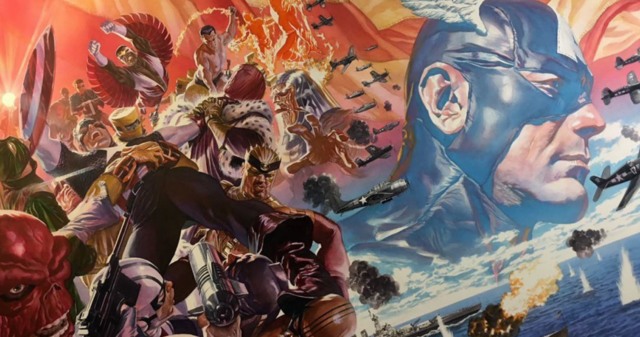 Yo, I don't know what to make of this. I love Ta-Nehisi Coates' prose. I didn't love his run on Black Panther. And putting him on Captain America? Seems equal parts intriguing and intentionally provocative. What does this add all up to? Me confusingly buying the first issue at the very least.
Writer Ta-Nehisi Coates and artist Leinil Yu will relaunch Captain America on July 4 as part of Marvel Comics' "Fresh Start" initiative. Alex Ross will provide covers.

Coates, the acclaimed journalist and author who relaunched Black Panther in 2016, made the announcement this morning in his column for The Atlantic. He'll continue to write Black Panther, joined by artist Daniel Acuña in May for a new #1 that kicks off a storyline involving the Intergalactic Empire of Wakanda.

Acknowledging, "There's a lot to unpack here," Coates addresses Captain America's origins, his role as a symbol, and his depiction as "a walking emblem of greatest-generation propaganda brought to life in this splintered postmodern time."

"Thus, Captain America is not so much tied to America as it is, but to an America of the imagined past," he writes. "In one famous scene, flattered by a treacherous general for his 'loyalty,' Rogers—grasping the American flag—retorts, 'I'm loyal to nothing, general … except the dream.' I confess to having a conflicted history with this kind of proclamation—which is precisely why I am so excited to take on Captain America. I have my share of strong opinions about the world. But one reason why I chose the practice of opinion journalism—which is to say a mix of reporting and opinion—is because understanding how those opinions fit in with the perspectives of others has always been more interesting to me than repeatedly restating my own. Writing is about questions for me—not answers. And Captain America, the embodiment of a kind of Lincolnesque optimism, poses a direct question for me: Why would anyone believe in The Dream? What is exciting here is not some didactic act of putting my words in Captain America's head, but attempting to put Captain America's words in my head. "

Captain America #1, by Ta-Nehisi Coates and Leinil Yu, debuts July 4 from Marvel Comics.