'True Detective' Season 3 is officially confirmed for 2019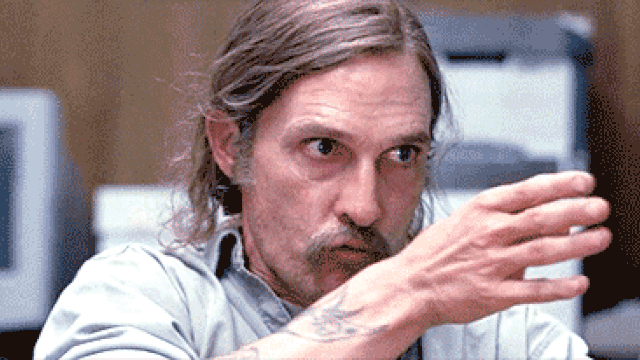 Nothing to lose with True Detective's third season at this point, right? If it sucks, well, we've already dealt with one season of it sucking. If it is rad ass, well, bonus points. We'll find out the verdict year.
I can't think of a television show that's experienced a drop in quality as drastic as the one that came between seasons one and two of HBO's True Detective. But from what I can gather, the primary reason behind that plunge was because season two was rushed into production, and that certainly won't be the case for True Detective season 3. HBO chief Casey Bloys just confirmed that the crime series will finally return to the network in 2019 – and while he was at it, he gave a new update about the long-awaited Deadwood movie, too.


The last time we saw an episode of True Detective on our television screens feels like eons ago, way back in August of 2015. But it'll be at least another year before we return to creator/showrunner Nic Pizzolatto's twisted, noir-ish world.

At the Television Critics Association winter press tour (via The Playlist), Bloys was asked if True Detective was coming back this year or not, and he responded, "No, 2019." While those who are hankerin' for another heaping helping of hardboiled crime drama might be disappointed to hear that they'll have to wait a little while longer before they get it, I think this is the best outcome for the show. It means that Pizzolatto has had plenty of time to write and fine-tune his new scripts (he wrote all of season 3 himself, except for one episode that he co-wrote with Deadwood creator David Milch, who came on board as something of a writing advisor).

You can read more about True Detective season 3 here, but here are the highlights: Pizzolatto and Green Room director Jeremy Saulnier will both direct episodes in the new season, which stars Mahershala Ali, Stephen Dorff, and Carmen Ejogo.