First Look: Joe Manganiello as Deathstroke from totally ass 'Justice League' post-credits scene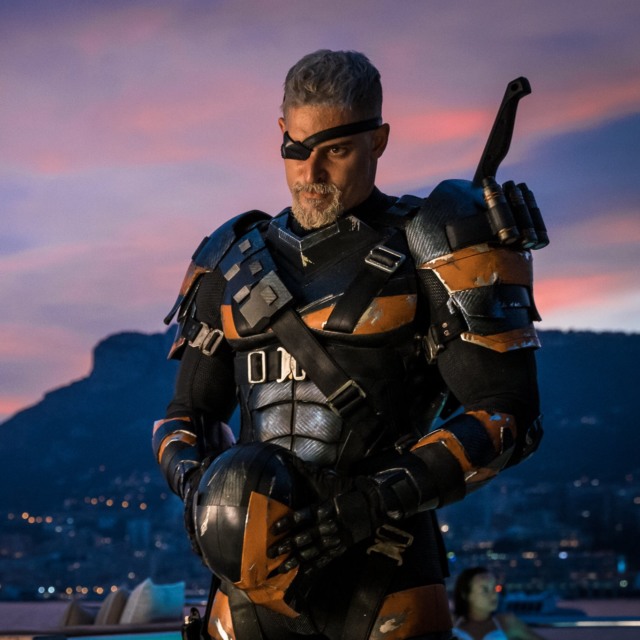 If you were smart enough to duck the boring, uninspired, stunningly chintzy Justice League, then you missed a post-credits scene or two. One of them featured Joe Manganiello as Deathstroke also looking chintzy, and talking to the interminably insufferable EisenbergLuthor. However, should you want a glimpse, the actor dropped an official first look from the aforementioned scene.
Joe Manganiello has revealed the first official look at Deathstroke after the character debuted in the DC Extended Universe's latest offering, Justice League. The DC Comics villain appeared in one of the movie's post-credits scenes, boarding a ship to talk to a newly-escaped Lex Luthor who apparently wants to strike a deal to form his own Injustice League.

The actor tweeted out the image, showing Slade Wilson clad in his iconic black-and-orange battle armor and armed with his signature katana. In the image, we see Deathstroke unmasked, holding his helmet, to reveal a comic-faithful grey-haired take on Wilson.

His popularity has exponentially risen over the last few years, appearing in the CW's Arrow (played by Manu Bennet), as well as on multiple animated fronts from Warner Bros. such as Young Justice and Teen Titans. Deathstroke went on to play big roles in Justice League and Suicide Squad comic arcs as well, which makes him a perfect fit for the DCEU.

Manganiello's appearance in Justice League surprised many, despite Batman actor Ben Affleck teasing his appearance in the past, especially after director Matt Reeves took over the Batman's solo film from Affleck, tossing the script with Deathstroke out the window. Now, it seems that Deathstroke's future in the DCEU is finally whole again, with a solo film reportedly ready for action from Gareth Evans who directed The Raid.