KFC Japan is selling bath bombs that smell like fried chicken. We deserve our fates at this point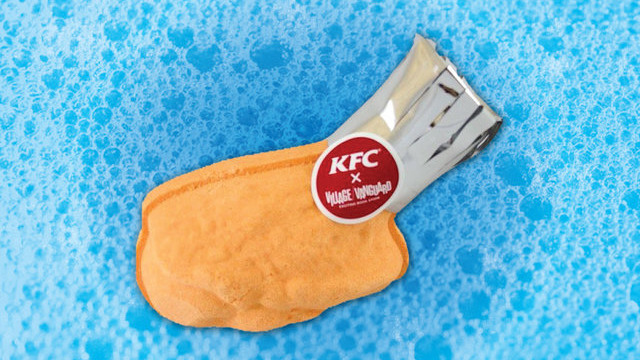 There's something always freeing in seeing humanity collectively shrug at progress, and just lean into our collective rot. Like, how else am I supposed to interpret fucking fried chicken scented bath bombs?
KFC wants you to jump in the bath with Colonel Sanders. OK, well not literally. To the dismay of a few customers, the fried chicken chain's latest viral marketing stunt won't have you splashing around with a bespectacled southern gentleman, but it can help you smell like a gristly drumstick with the aid of a fried chicken bath bomb.

Those looking to crash a Tinder date smelling like a giant grease stain will have a hard time doing so in the United States, though, as the fried chicken bath bomb is only available in Japan. Between November 1-15, KFC Japan will give away 100 bath bombs every day to people who retweet the company's original tweet hyping the contest. Speaking Japanese is not a requirement for entry, but it will probably help you understand the fine print, which is written in Japanese.
The fried chicken bath bomb, which presents a surefire way to spoil anybody's restorative candle-lit evening, is the joint product of KFC and Japanese novelty bookstore Village Vanguard. Winners of the contest will also receive a "Secret Combination Pack" containing coupons for popular menu items, which presumably all taste like chicken.

Despite our mastery of modern science, throwing a regular chicken drumstick into a bath will not have the same effect as the KFC bath bomb, although eating one while taking a bath has a proven track-record of making bath-takers feel fabulous, as evidenced below:
In what is surely an affront to an afternoon strolling the aisles of Sephora, KFC is no stranger to promoting fried chicken-infused beauty and health products: Last year, the company unveiled a fried chicken-scented sunscreen, and have also urged people to eat their cuticles with KFC nail polish.

The future of self-care has never been more interwoven with fried chicken, and it might be safe to say that personal hygiene has forever been "disrupted" by an old-guard fast food purveyor. Your bath might never be the same.