Scientists detect hidden chamber in Great Pyramid of Giza. Like, please don't piss off the Elder Ones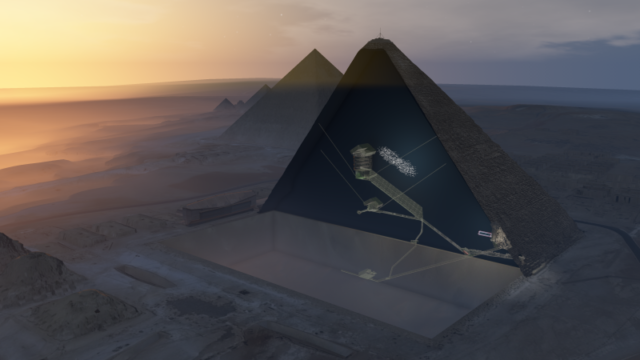 Scientists have detected a hidden chamber in the Great Pyramid of Giza. Sounds pretty bad ass, but man I got reservations. You see, everything I've been taught in life informs me that this is where Elder Ones hang out. Their pad, where they relax in-between eating planets and inciting cosmic horror.
Though they were constructed nearly 5,000 years ago, the Great Pyramids of Egypt are still packed with secrets. Using a technique that leverages the power of cosmic rays, scientists have confirmed the presence of a large empty space within Khufu's pyramid—a void that's signaling the presence of a possible hidden chamber.

It's tempting to think that all the great archaeological discoveries from ancient Egypt have already been made, but new research published today in Nature shows there's still plenty for us to uncover.

An investigation into the internal structure of Khufu's pyramid—the largest pyramid in Giza—has revealed the presence of a large and inaccessible "void" within the structure. The researchers who led the study, Mehdi Tayoubi from the HIP Institute in France and Kunihiro Morishima from Nagoya University in Japan, won't go so far as to say the cavity is a hidden chamber, but they're reasonably convinced the internal feature is a deliberate architectural feature of the pyramid. As to what's inside is anyone's guess, but the presence of artifacts and funeral items are not out of the question, according to Egyptologists.
Cross section of the Great Pyramid showing the location of the void. This interpretation shows it in a horizontal position, but the researchers say it could also be inclined, tipped downward toward the North Face Corridor. Could an undiscovered tunnel connect the two hidden features? (Image: ScanPyramids Mission)
The discovery was made possible through the unlikely intersection of archaeology and particle physics. By making meticulous measurements of muons—elementary particles that rain down on Earth from deep space and are capable of traveling through solid objects—researchers were able to characterize the densities within the pyramid, revealing the presence of an empty space that measures at least 100 feet (30 meters) in length.