First Look: 'Pacific Rim: Uprising' sees John Boyega re-cancelling the Apocalypse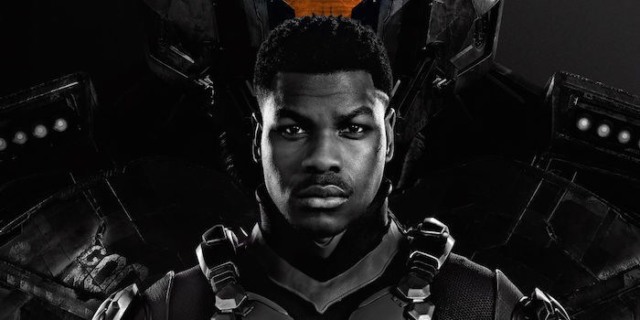 Here's some official looks at Pacific Rim: Uprising, courtesy of Entertainment Weekly.
The first trailer for Pacific Rim Uprising won't arrive until Friday, but the first images from the Pacific Rim sequel give us a glimpse at the impressive new Jaegers and their pilots.

John Boyega leads the next-generation team of Jaeger pilots who must deal with the fallout from the world-saving battle 10 years ago, and gear up for a possible new invasion.

Playing Idris Elba's son is a tall order in and of itself, but Boyega is more than talented enough to shoulder the burden. In the Pacific Rim Uprising first look from Entertainment Weekly, Boyega talks stepping into his Stacker Pentecost's shoes and strapping on the Jaeger pilot uniform for the first time:

"Jake is the prodigal son. He is a young guy who was on the cusp of greatness in his early days when he was training to be a Jaeger pilot, but he always had a troubled relationship with Stacker. I'm the son he didn't really talk about in the first film … the product of Stacker's first love."

But Jake Pentecost is brought back into the fold after his deeds as a black market retailer catch up on him, forcing Mako Mori (Rinko Kikuchi returning as the scene-stealing protagonist from the first film) to give him a choice: return to the Jaeger program that he abandoned as a rebellious teen, or pay for his crimes. Jake chooses the Jaeger, reuniting him with old friend Lambert (Scott Eastwood) and placing him on the vanguard against a new attack from the Kaiju.