Nick Fury is co-starring in the 'Captain Marvel' movie for better or worse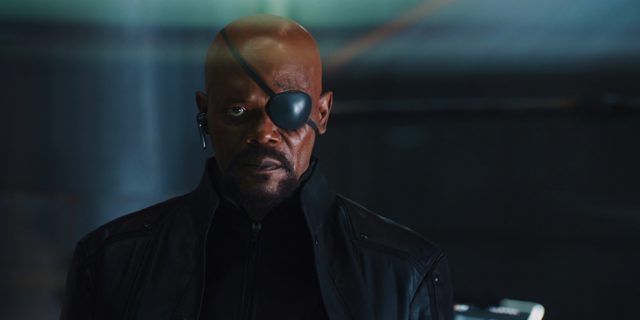 Nick Fury is co-starring in the Captain Marvel movie. The cynic in me is hollering with disdain that Marvel doesn't trust Brie Larson to carry the first female-led superhero movie for their studio. The fanboy in me is whooping with glee that Fury is back in a Marvel flick. How do you feel about this shit?
Earlier this year, Samuel L. Jackson teased the possibility of Nick Fury appearing in the upcoming Captain Marvel solo film. However, it wasn't clear in what capacity he might appear. Now, a new report suggests that Jackson will be co-starring in the movie.

The report comes from Omega Underground co-founder Christopher M., who suggested that Jackson will be co-starring in the film and that it will begin shooting on January 8th in Atlanta.
At this time there's no confirmation from Marvel or Jackson about whether the actor will appear in the film, so there's always the possibility that his role might change over the course of the production.

There isn't much currently known about the plot of Captain Marvel. In an interview last May, Marvel Studios President Kevin Feige suggested that the story would explore Danvers, not her powers; Feige also confirmed that it would be an origin story. In the comics, Danvers has served as an agent of S.H.I.E.L.D. and worked with Fury, so there's certainly a precedent there for a relationship between the two.

Jackson first appeared as Fury in the end credit scene for 2008's Iron Man. He's played the role in seven different movies and is slated to appear in Avengers: Infinity War and its currently untitled sequel. That would fulfill Jackson's nine-movie contract, so this also hints at the possibility of an extension. Jackson previously worked with Larson on the film Kong: Skull Island.

Captain Marvel is directed by Anna Boden and Ryan Fleck with a script by Nicole Perlman and Meg LeFauve. The film will star Brie Larson as Carol Danvers/Captain Marvel and is scheduled to arrive in theaters on March 8, 2019.