Chris Pratt says the 'Cowboy Ninja Viking' movie is not dead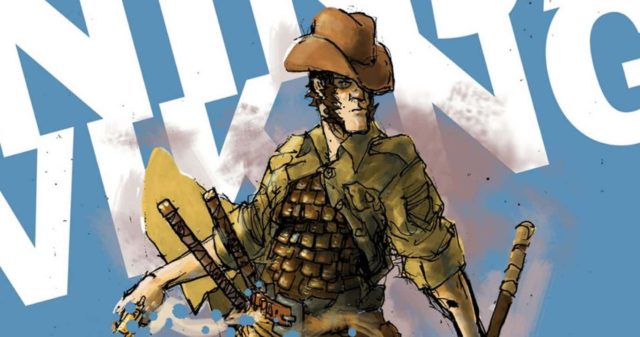 Chris Pratt has said that the Cowboy Ninja Viking movie is not dead. Which is great, because the comic book series about multiple-personality murderous assassins was hilarious and fucking gorgeous.
Chris Pratt has confirmed that "Cowboy Ninja Viking," the film adaptation of the comic book by the same name, is still headed to theaters — eventually. Pratt was cast as the film's lead back in 2014, but little has been announced about the movie since then.

"It's still in development," Pratt said in an interview with Collider. "It's definitely no joke. We've got a deal and we're moving forward. It's going to be [with] Universal. It's going to be really, really fantastic."

Disney purchased the rights to the adaptation back in 2010, with "Zombieland" writers Paul Wernick and Rhett Reese attached to develop a screenplay. The studio dropped the rights in 2012, and Universal picked up the project in a turnaround deal, a process that allows a studio to claim a developed project as a financial loss and sell the rights to another studio.

After the move to Universal, "World War Z" director Marc Foster was attached to the film. Later, David Leitch and Chad Stahelski, the duo behind "John Wick," were in talks to replace Foster, but little has been said about those plans since 2015. Despite only sporadic updates, Pratt insists the movie is still in the works and actively seeking a director.

"We don't have a director," Pratt said. "It's together, it's being put together. But we're in the process of talking to directors."

"Cowboy Ninja Viking" was originally a comic book series published by Image Comics. Running from 2009 to 2010, the series was written by A. J. Lieberman, with art by Riley Rossmo. The comic follows Duncan, a hired gun whose psyche is fractured into the individual personas of a cowboy, ninja and Viking. Duncan was part of a secret government counter-intelligence program that preyed on people with dissociative identity disorder, turning them into killer operatives whose skills are split among their personalities. When the program is dissolved, Duncan is sent to hunt down the operatives, called triplets, who have gone rogue.