Weekend Open Bar: The Groove Salve on the Brain Boil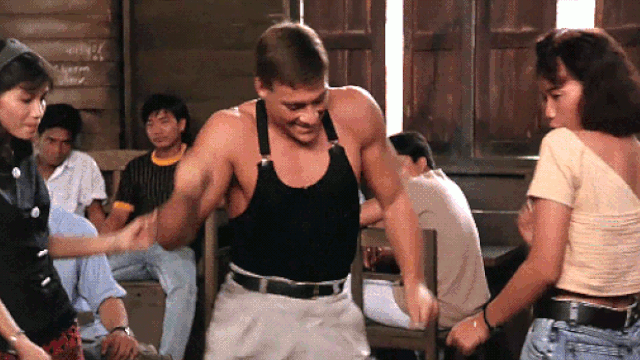 My desired Existential-Aesthetic is mid-to-late-1980s Jean-Claude Van Damme movies.
There is such a manic, loosely-tethered lunacy to his movies that more or less perfectly captures the reciprocal nature of It, itself. The meaning in his films are kind of missing, maybe there, sort of apparent, but always haunting you as you dare to ascertain It. Yet, despite the non-sensical, godless, utterly conflicting messages of his movies, that still manage to have fun and revel in doing so.
And yeah, I guess, that's sort of how I want to approach life, to approach It. It's a godless, non-sensical world, with no apparent plot or overriding structure. But, despite that, I'm going to cobble together my own absurdist meaning, and have fun doing so.
And I hope you'll join me, this weekend, at the Open Bar, in celebrating our own non-sensical, absurd existences together. Come, come, come into the bar. Share what you're up to. The movies you're watching, the liquid you're imbibing, the books you're reading. Anything and Everything always, so long as it adheres to this place's sole rule: goddamn it, you've got to be kind.
So tell me, and tell JCVD, what you're up to this weekend.