Rumor: Daniel Craig has agreed to do one more James Bond movie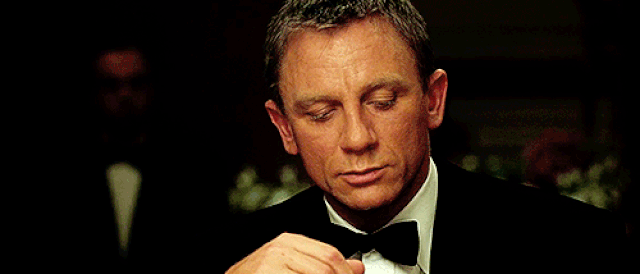 The will-they, won't-they shit surrounding Daniel Craig and the Bond franchise continues to uh, emerge from the pop-culture rumor sphincter? Don't really know where I was going with that metaphor. Hey whatever. Craig! Bond! One last ride?
Daniel Craig has a love-hate relationship with James Bond. Recently the actor reiterated how much he loves playing 007, despite previous famous remarks indicating that he'd rather slash his wrists than consider starring in another James Bond movie while on the press tour for Spectre. Since then, there have been (false) rumors of Craig turning down anywhere from $100 million to $150 million to reprise his role.

Despite rumblings of other contenders like Tom Hiddleston being mentioned, producers still have Daniel Craig as their top choice to return to Her Majesty's Secret Service. Now it sounds like they may have finally convinced him to return, at least if a new rumor is to be believed.

The latest update regarding Daniel Craig returning as James Bond comes from the gossipy Page Six, so take it with a grain of salt. They cite multiple sources telling them that producer Barbara Broccoli, who has been working with Craig on an off-Broadway production of Othello with Selma star David Oyelowo, has finally gotten Daniel Craig to reprise his role as 007. Here's what one of their sources says:

"Daniel was very pleased with how 'Othello' went and the great reviews. Now Daniel's talks with Barbara are going in the right direction. They have a script – screenwriting duo Neal Purvis and Robert Wade are writing – and they'll go into production as soon as Daniel is ready to commit."

So there doesn't seem to be a deal in place to bring Daniel Craig back yet, Barbara Broccoli may be on the verge of getting him to sign a new contract. However, even if Craig ends up not coming back as Bond, there's one actor who apparently won't be getting the gig in his stead.