'X-Men: Supernova' Shooting Soon, Sophie Turner Confirms Return As Jean Grey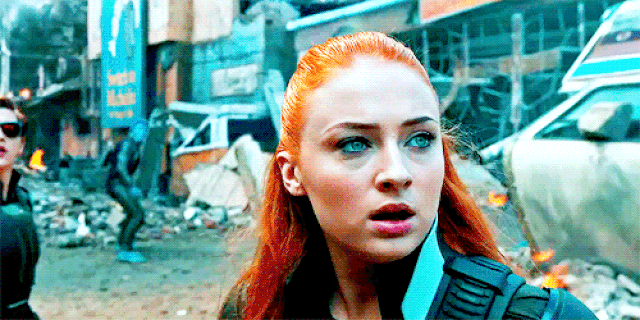 X-Men: Apocalypse was garbage. Sophie Turner was garbage as Jean Grey. No worries! Ever tried. Ever failed. No matter. Try again. Fail again. Fail better. Or, in other words, if shit makes loot, it gets a sequel!
When we reported on X-Men: Supernova last week, I was incredibly skeptical that a new movie was happening. The source said that filming would begin in June of this year in Montreal and that the plot would be based on the Dark Phoenix Saga. My skepticism came from the fact that it's incredibly difficult to put together a blockbuster production in four months. Even if you're keeping everything extremely quiet, folks typically know who wrote the script, who's directing, and who's producing. The main cast members are also set since their scheduling depends on their project commitments.

But the plot thickened this weekend when HeyUGuys caught up with Sophie Turner, who played Jean Grey in X-Men: Apocalypse, on the red carpet at the BAFTAs and asked what she had coming up. She replied:

"We're about to start shooting the next X-Men, we've just finished shooting Season 7 of [Game of] Thrones, and I've got a couple of movies to do before X-Men starts. And then we go on to Season 8."

As far as we know, there are two X-Men movies in development. One is New Mutants, which Josh Boone (The Fault in Our Stars) is writing and directing, and it's supposed to be a YA spin on the X-Men universe with a mostly new cast (there's been some rumors that James McAvoy could return to play Professor X). The other is Supernova, which would require Turner's presence since Jean Grey becomes the Dark Phoenix and she's sort of the focal point of the whole story.

So what's going on? No one at Fox is saying when exactly this film is supposed to go into production, who's directing, or what the release date could be (the studio does have some untitled Marvel films set for release, but those could be New Mutants or Deadpool 2). I've heard it suggested that Simon Kinberg, who has served as a writer and a producer on the recent X-Men films could step into the director's chair. But if that's true, it's an extremely risky move for the studio. It's one thing to have a front row seat to seeing how X-Men movies are made, and it's another to make your directing debut on a blockbuster picture.

Obviously, Turner knows her schedule better than I do, and maybe she is gearing up to shoot another X-Men movie later this year. It will be interesting to see how this develops and just who the hell is making this thing.