Confirmed: Miles Morales Is Star of 'Spider-Man' Animated Film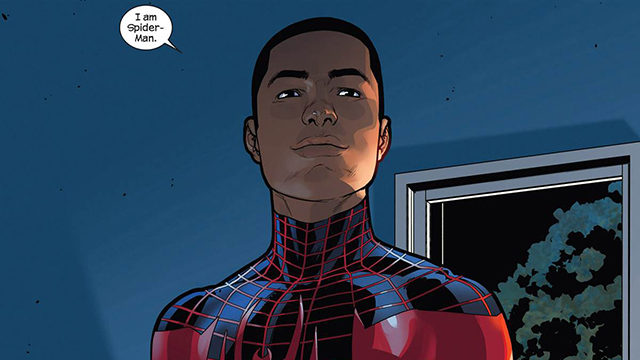 Make mine Miles Morales! Prayers heard. 'Cause. Bro. In the animated Spider-Man movie mine has been made Miles Morales.
Miles Morales has been officially confirmed as the superhero behind the mask in Sony Pictures upcoming animated Spider-Man film. The studio made the announcement on Twitter as part of its Sony Animation Day presentation.

The as-yet untitled feature, written and produced by "The LEGO Movie's" Chris Miller and Philip Lord, arrives in theaters December 21 2018 and will "[bring] the Miles Morales story to the big screen." Miller and Lord promise that the movie "has a lot of heart, a lot of action, and a lot of laughs."
The film was first announced in April 2015, with reports that Miles would be the movie's hero surfacing in May 2016.

The animated film is said to "co-exist" with live-action Spidey film projects, though it "will exist independently of the projects in the live-action Spider-Man universe, all of which are continuing." Spider-Man franchise vets Avi Arad and Matt Tolmach will produce, along with former Sony Pictures Chairperson Amy Pascal, who will produce the new live-action Spider-Man film with Marvel Studios President Kevin Feige.

Spider-Man's animated feature film debut will bow on December 21, 2018, roughly a year and a half after Sony and Marvel's live-action Spidey film, "Spider-Man: Homecoming," arrives on July 7, 2017.