Monday Morning Commute: Dunkin' On Life's Responsibilities This Week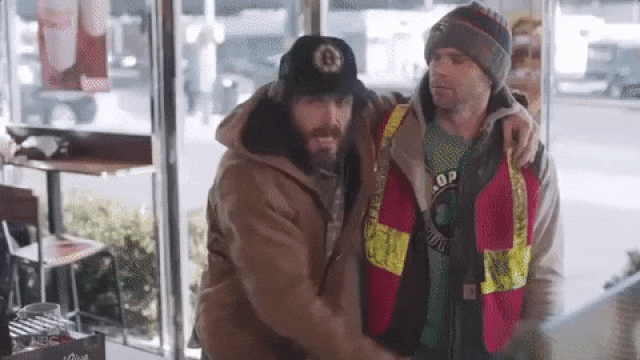 Man, I ain't got nothing to do.
Wife's home. Wood stove pumping a pleasant, hearty heat. Admittedly, an unobtrusive but steady current of holiday corpulence-fueled diarrhea getting me up off the couch. But as I said, unobtrusive. A marginal push, a half-hearted wipe, and I'm back on the couch. Lounging. Admittedly, stank ass'd.
But hey.
Man, I ain't got nothing to do.
It's that wonderful liminal state between Christmas and January 2nd. Where the entire world seems slumberous, if not not working.
So let's spend the hour, the day, the week together. This is Monday Morning Commute! Where we share what we're enjoying during a given week! So, hark! The Calories and Diarrhea Golems sing! What are you up to? Let's hang.
'Cause.
Man, I ain't got nothing to do.
—-
I swear to fucking God I'm going to see Manchester By The Sea tomorrow. I know, I know I've said I'm seeing the movie the last three weeks. But! Schedule clearing up. The Mother-In-Law is gone, the holiday chores are settled. My wife and I are seeing it. I swear it!
—-
Planning on polishing off Watch Dogs 2 this week. I've enjoyed it, but it's time. Time to blitzkrieg the rest of the title.
—-
Bumping the shit out of Run The Jewels 3. It's good. not RTJ2 great, but then again — what is. Dark, dank, creepy beats. El-P seems to be channeling some of the more esoteric beats of his past. I'm loving it, though. Loving it!
—-
My Wife and I are are celebrating nine years of being together this week. Nay, not married. But, from first date. A night that began with me getting lost in Salem, and ended with me sleeping in her bed, in my jeans, with my belt on. 'Cause Momma raised a gentleman.
—-
The Dude runs a Reverse Pick 'Em League where every week you have to pick *one* fucking football team to lose. I've, I've lasted the entire season. I, I need to win. There's money on the line, sure (though I forget how much). But more importantly, winner gets a goddamn championship belt.
—-
Trying to figure out if the next game I'm playing is Final Fantasy XV. Bateman's currently playing through it, and it's a mixed bag for him. He complains, oh he complains so much about it. But he keeps playing, keeps enjoying it. I enjoyed the three or so hours of the title I've played, but I imagine my experience will be quite the same as his.
—-
What are you folks up to, this week? Tell, tell, tell me! Let's hang.