The Purge is getting a TV series anthology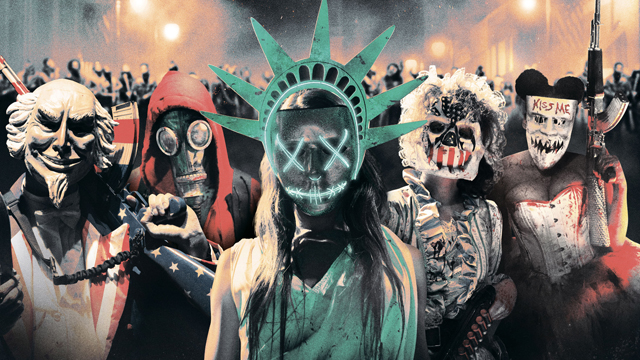 The Purge is invading more than your homes, hearts, and movie theaters, unwashed scum. According to its creator the franchise is going to become a TV anthology. This is fantastic news for someone like me, who unabashedly enjoys the slop culture quasi-commentary series.
In the last three years, The Purge movies have proven to be a big, growing success on the silver screen. Each film –written and directed by James DeMonaco — has managed to do better at the box office than its predecessor, and as a result the future of the series is quite bright. In fact, not only will we still see more movies in the future, but now a Purge television series is in active development.

With The Purge: Election Year arriving on Blu-ray and DVD next week, I had the pleasure of hopping on the phone with James DeMonaco for a one-on-one interview this morning, and it was during our conversation that he revealed the exciting news of the in-the-works Purge show. While discussing the franchise's high-concept idea and its surprising flexibility from a narrative perspective, I asked the writer/director if there was a chance of potentially seeing a television series in the future, and he enthusiastically responded in the affirmative. Said DeMonaco,

Dude, it's so weird you bring that up. Yes! Not an anthology… I guess kind of an anthology — more of an interwoven anthology. They came to me about a TV show, my idea is that you do six or seven storylines. And I would kind of intercut them, use flashbacks.

James DeMonaco went on to note that his ideal format for the show is more oriented for cable, describing it as playing out over the course of 10 hours (presumably meaning 10 episodes). Explaining why he felt that television was a good fit, the Purge mastermind said that having that much runtime versus 90 minutes would allow him to really dig inside the mind of a "purger" and let audiences really see what is driving them to kill on Purge Night. Said DeMonaco,

The idea of why I like the idea of a maybe 10 hour TV thing on this, the one thing you really can't do on the films is, just because of mere real estate and time, is you can't get into the nuance and complexity that would drive someone to commit a terrible act on this night. Whether it's revenge or out of passion, but what might be interesting in a TV show is with a flashback narrative, if you start on Purge Night but you go back to show how people have gotten to where they are. Where you see a couple that's gone haywire on this night, but let's show everything that's led up to this moment of a husband trying to kill a wife — the cheating or the accusations of cheating or money problems. It will be interesting to show those arcs, those dramatic and complex arcs that get people to where they pick up a gun or a knife and kill someone else. I think there's something cool that we can do with the real estate of TV — 10 hours, potentially.

Perhaps even more exciting than all of these details about the Purge television series is the fact that it may not be a long time before we actually find ourselves watching it. Given the clear amount of thought that has gone into the project, I asked James DeMonaco about the status of the show and if we could see even see it in the next year, and he told me that things are indeed moving quickly in development:

I think so, dude, yeah! They're far ahead on the TV front… pretty far ahead. Not to get into the nuance of how it all goes down, we're talking about deals right now, money is being spoken about. Things like that. So I think it's being taken very seriously from the higher-ups who obviously dictate everything.

This is obviously extremely exciting news for fans of The Purge movies, and you can be sure that we will keep you up to date about more project details in the future. For now, stay tuned for a lot more great stuff from my interview with James DeMonaco, and pick up your copy of The Purge: Election Year on Blu-ray and DVD on October 4th.