Extra Life Event Public Service Announcement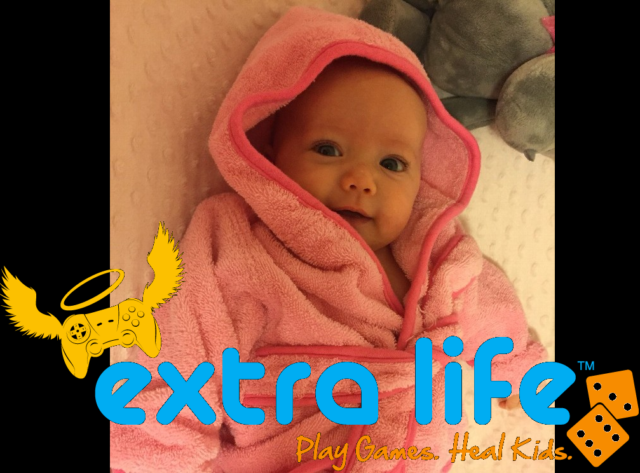 … Salami?  Time!  Its time.  Hello fellow travelers on the Starship Omega.  This is your temporary captain, The Dude, speaking.  If you look out the left cabin window you'll see Glorbax 3, a lovely world where pizza grows on trees like the mighty orange and team building exercises carry a triple death sentence.  On the right side you'll see the vast nothingness of space that forces you to realize your insignificance in the face of cosmic events, and wish desperately for a quiet and swift end to your meaningless consciousness.
I am here for a very important reason.  Its Extra life season.  What is Extra Life you ask?  What a handsome question, you dashing devil.  Well, its a charity that focuses on raising money for sick children.  For more information of how it all started, please watch the video below.  (Have some tissues handy)
So every November (October for my group as November is a busy month) people involved with the charity hold their own gaming marathons, raising money along the way.  Since Extra Life's inception in 2008, more than $22 million dollars has been raised for Children's Hospitals.  
The host of my gaming group's game days, Brad, has always been a supporter of Extra Life, but didn't decide to do his own 24 hour event until last year.  It was a fun learning experience and raised $1,000 for Boston's Children's Hospitals.  Then, Fate's flaming hammer of irony decided to strike him.  You see that picture up there at the top of the page?  That's not just a stock image.  I didn't go searching through Google using "Sickeningly cute baby" as a search parameter.  Not because I didn't want to end up on a watch list, no, that image is of Brad's daughter, born this past April.  
From our Extra Life team page:
"Hi everyone,

On October 1-2, my friends and I will be participating in Extra Life at my house. For 24 hours straight we will play video and tabletop games of all types.

All of the money we raise goes directly to Boston Children's Hospital in the form of 'unrestricted funds'. This means that Boston Children's Hospital decides where and how to spend the money to ensure the dollars we raise makes the biggest impact in the lives of the kids they treat. For example, the money will go to fund research and training, purchase life-saving equipment, and pay for uncompensated care.

This year is even more personal as I was able to experience the impressive care at Boston's Children's Hospital firsthand. My daughter, Zoe, was born on April 9th of this year with a rapidly involuting congenital haemangioma (more commonly known as a RICH) that covered the majority of her liver and seriously impacted her heart and breathing function. For almost the first week of her life she was in the level 3 NICU at Boston Children's. Luckily, her diagnosis was incredibly good and she was soon home but there were so many other children there far worse off than she was. Because I was able to see the amazing work they do at Boston Children's Hospital up close, I want to try and help them in any way I can."

-Brad
What can you folks do to help?  Well, money is best.  Sorry to be so blunt about it, but money is always the best thing to donate.  Each donation of $25 or more will earn you a raffle ticket for a $100 gift certificate to Amazon.com.  In fact, each time you hit an increment of $25, you get another ticket ($25 for 1, $50 for 2, $75 for … you get it, you're a smart group).  You can donate here:

If you don't want to or can't, that's fine too, we'll take awareness.  If you share this on whatever social media you deem appropriate, that will help spread the word.  
You could also start your own event and harass family, friends, and strangers for money to donate, that's cool too.  We're not so vain that we only want people to donate through our group.
Also, as a side note for our event on October 1st-2nd (8 am to 8 am), I'll be live posting various goings on of our event on OL as they happen, so you can even just hang around in the comments section of that post and watch me slowly lose my mind as I try to balance running whatever game engine I am dealing with as I creep closer and closer to sleep depraved induced rambling that would put Aleister Crowley to shame. 
Thanks for your time Omeganaughts, now let's go eat the heck out of them Pizza trees!