Chris Hemsworth returning as George Kirk in 'Star Trek 4', confirms Abrams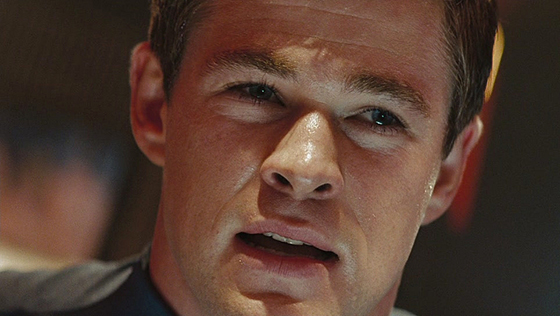 Chris Hemsworth. I love him. Love him as Thor, loved in the original Star Trek reboot, loved him tonight in Ghostbusters. I don't know the logistics behind his appearance in the theoretical Star Trek 4.
Star Trek Beyond has yet to hit theaters (soon!), but plans are already in motion for the fourth film in the rebooted Star Trek franchise. The first installment basically wrote a new timeline to differentiate from the original series, allowing for new stories to be added to the canon. With that precedent, we shouldn't be too surprised about the timeline twisting shenanigans to come, but it sounds like a familiar but long dead face will be returning. According to producer J.J. Abrams, Chris Hemsworth will be returning to Trek.

As you probably know, a pre-Marvel Hemsworth served as George Kirk, father to James Kirk (Chris Pine), who died heroically in the first five minutes of Star Trek. His father's legacy was part of the impetus Kirk needed to join Star Fleet, thus making him an integral part of the story. While doing press for Star Trek Beyond, Abrams hinted at some impending news:

Yes, and there's something that hopefully we're figuratively minutes away from talking about. The answer is 100% yes, and it's incredibly exciting.

Soon after, Scott Mantz of Access Hollywood broke Abrams' news via Twitter.
BREAKING!! #JJAbrams confirms to me that a 4th #StarTrek movie will bring together #ChrisPine & #ChrisHemsworth!! pic.twitter.com/9WRDKw54d4

— Scott Mantz (@MovieMantz) July 15, 2016
Whether it is resurrection, time travel, or some sort of hologram, it will be interesting to see how Kirk Sr. is brought back into the fray. Plus, any time a member of the Handsome Chris Quartet interacts with another on screen, an angel gets its wings.