'Wreck-It Ralph 2' announced; dropping March 9th, 2018. First image released, too!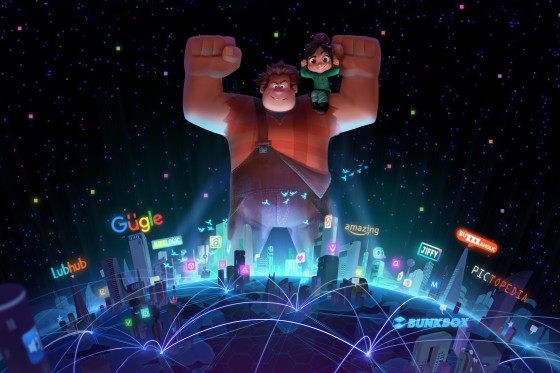 I sort of expected a Wreck-It Ralph 2, given that the initial movie made roughly one-zillion dollars. And now my brilliant, genius-level intuition has been confirmed.
Walt Disney Animation made a big announcement on Facebook Live this morning: Wreck-It Ralph 2 will be coming to theaters in 2018. Get the details after the jump.


Filmmaker Rich Moore addressed fans on the Breaking News Facebook Live broadcast, introducing Phil Johnston, who co-wrote Wreck It Ralph and Zootopia. Johnston will be co-directing Wreck-It Ralph 2 with Moore. Johnston didn't start out in animation; he wrote Cedar Rapids and The Brothers Grimsby. This will be his first time (co-)directing a feature film.

Moore revealed that they started working on this new idea right after they finished Wreck It Ralph. The duo famously got pulled away from their project to help save Zootopia (which turned out pretty well). Ralph voice actor John C. Reilly also appeared on the broadcast to make it official and announce the release date. Wreck-It Ralph 2 will hit theaters on March 9th 2018.

As for what it will be about, Reilly said that is "top secret," but that "Ralph leaves the arcade and wrecks the internet." He began to elaborate on the plot and the Facebook Live feed froze, which was a bad joke that left many nerds scrambling.

Fortunately, we were able to dig up some more details elsewhere. First, Disney shared the first bit of Wreck-It Ralphconcept art showing Ralph and Vanellope about to wreak havoc in the internet. And yes, they've confirmed Sarah Silverman will return to voice Vanellope von Schweetz alongside Reilly as Ralph.

"The world of the internet is the perfect place to send Ralph and Vanellope," said Johnston in the accompanying statement. "The scope and scale are so vast and the possibilities for comedy are endless."

Along with the Wreck-It Ralph 2 announcement comes news that Ralph will be dropping by to "wreck" Disney's mobile game Disney Crossy Road starting at 12 PM PST today.

The one bit of bad news that comes with the Wreck-It Ralph 2 announcement is that Disney Animation's Gigantic has been pushed back. Originally scheduled for March 9th 2018, it will now open November 21st 2018.