'Episode VIII' News: Rian Johnson shares image of Maz Kanata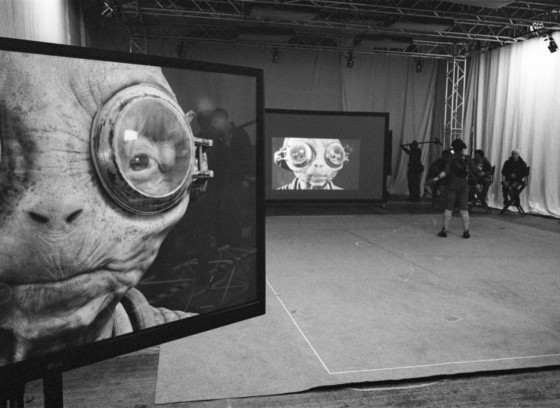 Looks like we're going to be seeing some Maz Kanata up in Episode VIII, if a teased image from Rian Johnson is any indication. Which, I believe it to be.
/Film:
The photo appears to show a performance capture stage, one which is used to help a performer see a more rudimentary version of their CG character in real time. This kind of stage, sometimes referred to as a Volume, is usually to used to capture data for the film, but also to fine-tune the performance before acting on the real set opposite the live-action actors.

Now we should warn you, we don't know that this image isn't from the set of J.J. Abrams' Star Wars: The Force Awakens. We know that Johnson visited the set of Episode 7 and with the Blu-ray release of the movie this week, he could be posting an old photo from the making of that film.

That said, I believe this to be a new image from the making of Johnson's sequel. If so, this means that Lupita Nyong'o's character Maz Kanata does survive the vicious First Order attack on her castle and will appear in the next movie. Nyong'o is supposed to be in the film, as she was listed in the official press release announcing the beginning of filming of Episode 8.