First Look: 'Wonder Woman' drops image of Diana and her Amazon Moms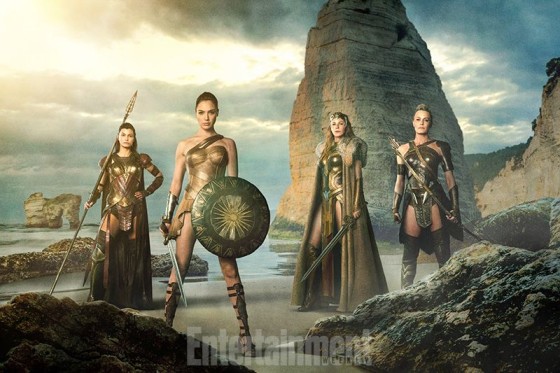 EW's image features, from left to right, Lisa Loven Kongsli as Menalippe, Diana's aunt; Gal Gadot as Diana; Connie Nielsen as her mother, Queen Hippolyta; and Robin Wright as General Antiope, Diana's aunt and teacher. The Amazons have, for much of recent comics history, been portrayed as a group that is diverse in race and skin color, if not in gender, hopefully we'll see that trend here as well, as further information from the film, due out in June of next year, is revealed.

"This trio of immortals is responsible for both raising and training Diana," says EW, "but they don't always agree. Hippolyta, a revolutionary leader, longs to shelter her beloved daughter from the outside world, but Antiope, the Amazon responsible for Diana's training, wants to prepare her."

This is also our first look at Amazonian attire, and culture, outside of Gal Gadot's Wonder Woman costume. Director Patty Jenkins told EW that many of her decisions about the Amazons came down to one question: "How would I want to live that's badass?"

What's "badass," the director admitted, includes high heels, and she's game to defend that choice as wish-fulfillment, though for this writer's part I can confess that's not a universal characteristic of women's ideas about heroic fighting attire.