Aaron and Guéra's 'Scalped' getting TV adaptation courtesy of WGN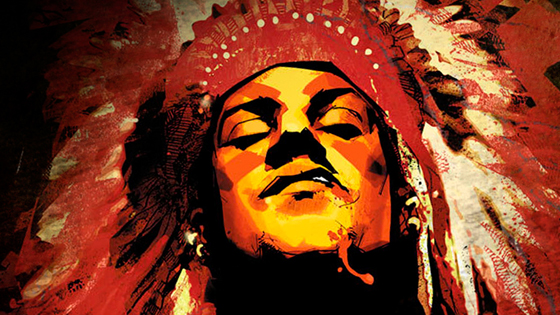 I like Jason Aaron a lot. But I haven't read Scalped. This is because I'm undistilled trash that instead of reading the glorious likes of Scalped will watch fourteen hours of wrestling a week. What can you do. (Stop watching wrestling? Nah!) Still happy for the creative team behind the comic, though.
[There] are tons of incredible, non-superhero comics sitting in the wings, waiting for someone to pick them up and transform them into television series. Next in line appears to be Scalped, which one of the best crime comics I have ever read and one of Vertigo comics' most unique and thrilling series. WGN has ordered a pilot episode, so keep your fingers crossed – this could be something special.

The Hollywood Reporter has the details: Banshee's Doug Jung will script the pilot while DC comics chief creative officer Geoff Johns will serve as an executive produce. Beyond that, not much is known…except that Scalped (which ran for 60 issues from 2007 through 2012) has a killer high concept that the source material executed to perfection. THR provides a solid elevator pitch:

Scalped is described as a modern-day crime story set in the world of a Native American Indian reservation. It explores power, loyalty and spirituality in a community led by the ambitious chief Lincoln Red Crow, as he reckons with Dashiell Bad Horse who has returned home after years away from the reservation.

What that doesn't tell you (and what is revealed in the first issue of the comic) is that Dashiell Bad Horse is an undercover FBI agent, sent to investigate the burgeoning criminal underworld on the reservation where he grew up. Naturally, his loyalties are torn between his deteriorating community and the government that has abused and neglected his people for centuries.

While writer Jason Aaron and artist R.M. Guéra crafted a superb, pulpy crime tale filled with action and double crosses and mayhem of all kinds, the series really excels when it pauses to examine life on "the Rez." Fans of The Wire will find much to appreciate here, as Scalped dives deep into how systems fail people and how the dynamic between cops and criminals isn't always as simple as "good guys and bad guys." While the setting alone makes Scalped feel unique, the flawed and fascinating cast of characters that fill every story make it sing. Chief Lincoln Red Crow is especially fascinating and makes for one of the most complicated and sympathetic comic book villains ever conceived.