'Southern Bastards' Rebel Flag variant raised $18K for charity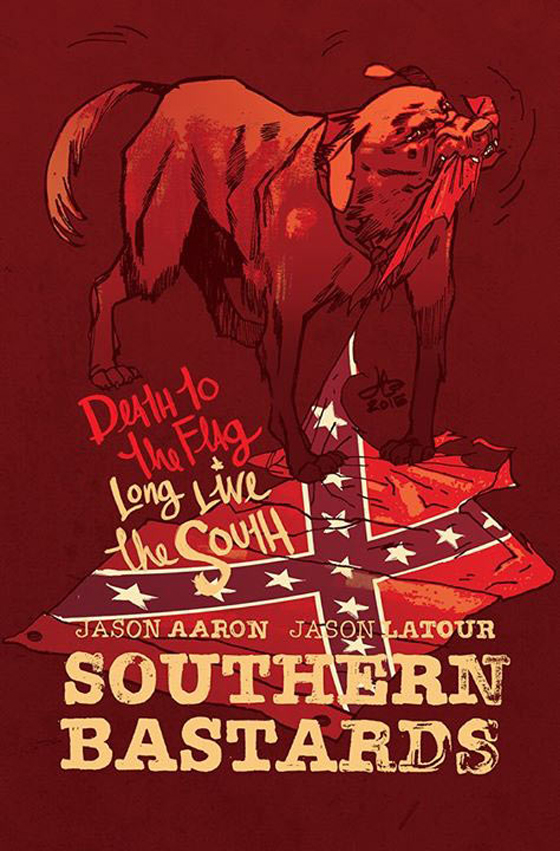 Southern Bastards is a raw book, man. Set in a raw southern town, man. So while it hasn't shied away from addressing the Confederacy, a recent variant cover swung right at its flag. For charity!
The rebel flag variant cover edition of Jason Aaron andJason Latour's "Southern Bastards" #10 has raised $18,000 for charity, Image Comics announced today.

The money has been donated to Mother Emanuel Hope Fund, a charity set up in response to the Emanuel African Methodist Episcopal Church shooting.

"We're tremendously moved by the support for this charity cover," Latour said in a statement. "Our readers raised every cent of this money, thanks so much y'all. You're the best."

"Thank you so much to all the retailers and fans who supported this variant," Aaron added. "We're proud to send this donation on behalf of you all."

The variant was inspired by activists Brittany "Bree" Newsome and James Tyson, who were arrested after the former climbed a flagpole outside the South Carolina state Capitol building and removed the the Confederate battle flag that flew there. Newsome's actions were spurred by the controversy that welled up across America over the imagery of the rebel flag, in the wake of the church shooting.