'Ash Vs. Evil Dead' renewed for a second season by Starz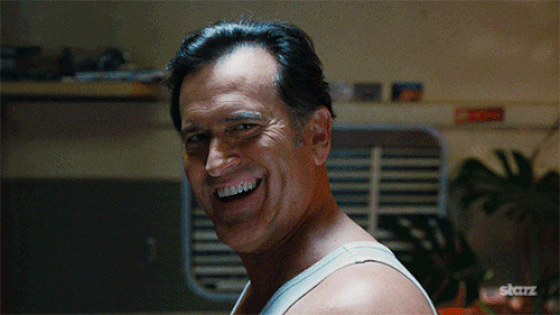 Holy GolemTits! Ash Vs. Evil Dead hasn't even aired yet, and Starz has already renewed the show for a second season. This reminds me — I need to find a way to watch this futzing show.
Boom, baby: Just as star Bruce Campbell predicted, Starz has renewed "Ash Vs. Evil Dead" for a second season.

Starz made the announcement this morning, three days before the series' Halloween premiere.

"One season isn't enough to satisfy the fans' two decade-long appetite for more Ash," Carmi Zlotnik, Starz's managing director, said in a statement. "The early fan and press support, along with the international broadcaster demand for more story have made it clear that the adventures of Ash Williams can't end with season one."

A continuation of director Sam Raimi's cult film franchise, "Ash Vs. Evil Dead" picks up with Ash (Campbell) having spent the past three decades avoiding maturity, and the terrors of the Evil Dead. But when a Deadite plague threatens to destroy all of mankind, he's forced to face his demons — both metaphorical and literal.

Campbell was confident the series would be renewed, saying earlier this month, "Look, we got a second season the minute there were 15 million views on Facebook for the trailer. That was our second season right there, I can tell you right now. They were like, 'Got it! We know this show now!' They were finally convinced of its following."

Executive produced by Raimi, Rob Tapert and Campbell, "Ash vs. Evil Dead" also stars Jill Marie Jones, Ray Santiago, Dana Delorenzo and Lucy Lawless. The series premieres Saturday at 9 p.m. ET/PT on Starz.