'Bourne 5′ Set Photo: Damon is back as Bourne. Lookin' yoked as all futz~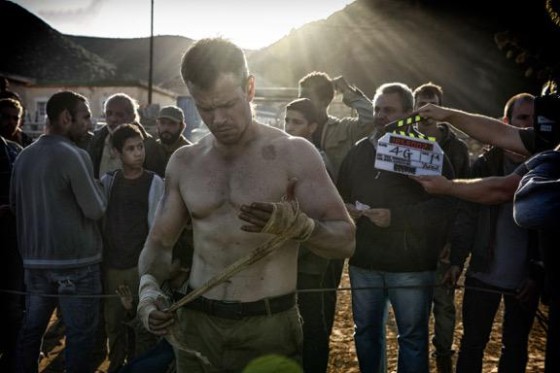 The producer of the fifth Bourne movie dropped this image today. It displays a considerably ripped+shredded Matt Damon clearly wrapping up after punching baddies on the first day of production. I'm cool with the picture. It's cool. Let's do this.
In case there were any lingering doubts, Frank Marshall has photographic proof that Jason Bourne is back in action.

The producer marked the completion of the first day of principal photography with an image of a shirtless, toned Matt Damon on the set of Universal's fifth Bourne film.

Directed by Paul Greengrass from a script he wrote with Christopher Rouse, the untitled action thriller marks Damon's fourth turn as the CIA assassin. "Without giving too much of it away, it's Bourne through an austerity-riddled Europe and in a post-Snowden world,"the actor recently teased.

Damon is joined in "Bourne 5″ by Julia Stiles, Alicia Vikander and Tommy Lee Jones. The film opens July 29, 2016.