Blizzard's Former COO donated his entire futzing personal collection to museum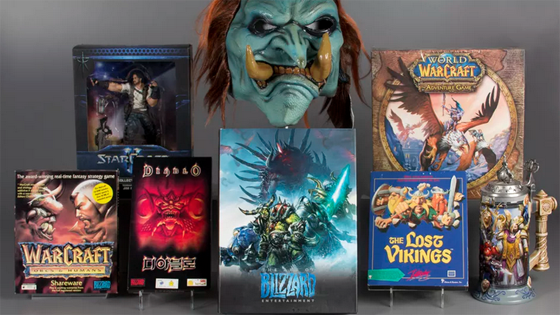 Paul Sams is a good guy. Solid dude. High on the dope quotient. The former COO has donated his entire goddamn personal collection of Blizzard games+artifacts to the Strong National Museum of Play. It seems like a bold move for many collectors, but it smacks of sensibility to me. How does one ensure such glorious collection persists in a maintained state? Especially as one ages? While donating it to a museum relinquishes ownership, it also guarantees that it will be an accessible monument for years to come. Cheers!
Paul Sams, who once served as COO of Blizzard Entertainment and president of Versailles, France-based Blizzard Entertainment SAS, donated more than 1,500 items to The Strong National Museum of Play, chronicling the history of franchises like Diablo, StarCraft and Warcraft.

Sams' personal collection comes from his nearly two-decade stint as a Blizzard employee. It contains copies of games old and new, including those that date back to the early '90s when Blizzard went by Silicon & Synapse and developed The Lost Vikings and RPM Racing. He also handed over marketing materials like posters and pins, jewelry and toys.

"During my 20-year career at Blizzard, I accumulated the single largest and most diverse personal global collection of Blizzard Entertainment's games and franchise related merchandise that anyone has ever seen," Paul Sams said in a press release accounting the donation. "This collection holds a very dear place in my heart and I wanted to ensure that the materials would be properly preserved for many decades to come. The dedicated and talented team at The Strong were the obvious choice to care for the collection. Most importantly, I wanted to ensure that broadest audience of gamers and fans of entertainment and play would be able to share in this extensive collection of gaming history."

Sams joined Blizzard in 1996 and served in several roles, including the director of business development and senior vice preside of global business operations, before becoming COO in 2004. He served in that role for 11 years and as president of Blizzard Entertainment SAS for three years, from 2012-2015. In June 2015, Ready at Dawn, the studio behind The Order: 1886, brought Sams onboard as its new CEO.