Kevin Feige gains more control over Marvel Studios after company restructuring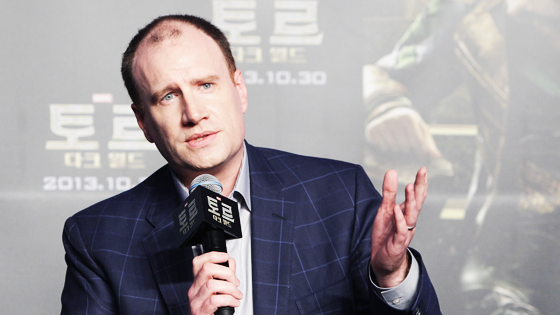 I clearly am not up to date with my Marvel Studios Backstage Machinations. I, perhaps naively, just sort of assumed Kevin Feige did what he wanted when it came to the studio. But apparently he was like, answering to some guy. That he didn't like. But now he isn't? Is this a good thing? I don't know. As I said. I am clearly not up to date with the machinations. But I trust Feige, so wee. How do you feel about it?
Chances are, many Marvel fans don't even know the name Ike Perlmutter. Ask people who runs Marvel Studios and the name you'll hear will be Kevin Feige. Even Feige reports to someone, however. Since 2007, when Feige was made president of production at Marvel Studios, that someone has been Ike Perlmutter, who became CEO of Marvel Entertainment in 2005.

Things changed last week, however, as Feige managed to tweak the corporate structure at Marvel and Disney. In short, Feige now reports to Disney chief Alan Horn, while Perlmutter remains Marvel Entertainment CEO, working out of New York.

On the surface the change may seem small, but the new exec structure could have a couple of big long-range effects for Marvel movies and TV. Time will tell how big those changes will be; we'll explore the possible ramifications of the Marvel Studios shakeup after the break. 

THR reports that "several years of frustration" between Feige and Perlmutter led to this new corporate structure. Feige now has tighter control over Marvel's movies, and reports directly to Alan Horn at Disney. Jeph Loeb, who heads Marvel Television, will continue to report to Perlmutter in New York.

Those quiet stories of strife between Feige and Perlmutter have been around for years. The CEO is ultra-private, never giving interviews and rarely even allowing himself to be photographed. Feige likes to talk to the press, and compared to Perlmutter he's much more of a story guy. Perlmutter is a businessman, and he's part of the reason Marvel exists today after the financially turbulent 1990s, but Feige is the architect of the Marvel Cinematic Universe.

Whether public perception of Feige as Marvel's leader naturally grew out of his open approach to publicity, or if he cultivated that persona in opposition to Perlmutter's reclusive approach as a way to build his own reputation, the effect has been to create a public perception of the power balance at Marvel that wasn't always correct. But while Perlmutter had final say, Feige was the one with more acute long-range plans on the story side.

Furthermore, the stories you've heard about Marvel being incredibly cheap, from director and actor salaries all the way down to food served at press junkets, are related to Perlmutter. A 2009 Financial Times piece on the exec painted him as a committed penny-pincher, and also acknowledged that the tendency likely contributed to Marvel's revival after '90s financial woes. Saying Marvel didn't like to spend money was really saying that Perlmutter didn't like to spend money.