Monday Morning Commute: The Red Planet Was A Promise Broken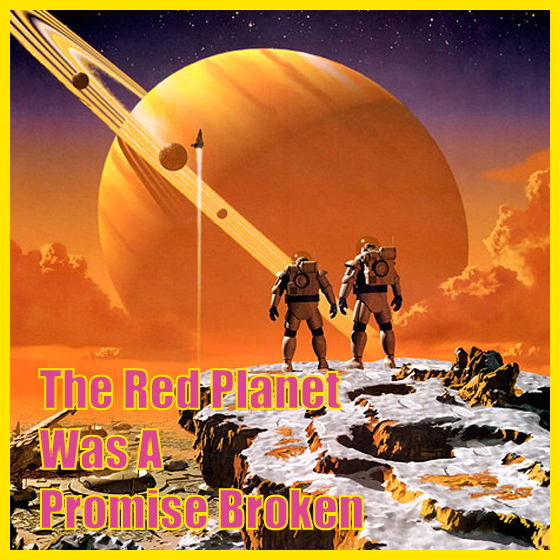 The Red Planet was a promise broken. I don't know, half-baked phrases that wiggle up out of the sludge of my brain. Dying on the shores of over-caffeination, lack of self-esteem, and attention deficit disorder. Never to evolve past their primordial stage. Never to take shape as anything other than a "hey, that may be neat to write about." At least not in the last few years. Who knows. Maybe with a new home, my own room, and a distinct desire to create something, I'll get beyond the "concepts generated while taking a crap-taking a drive-taking a shower" stage of my (lack of) creativity.
But who knows. Maybe! You're not hear to read the melancholic musings of another boring middle class ding-dong. You may not be here intentionally at all! But if you are here intentionally, and you do know what this column is about, you're ready! And if you don't know — this is Monday Morning Commute. The column where I share the various activities I'm looking forward to across the work week. Activities designed to distract me from the grind, enlighten me out of the gloom, and inspire me out of my malaise.
As per usual, when I'm done bloviating, I hope you share your own activities this week.
—-
I'm looking forward to decompressing this week. In a two month span I've gotten married, taught a summer class I was completely unprepared for, bought a house, and pretty much moved into the house. The last year and a half have gone by at Lightspeed, and I just want to relax for a bit. I'm checking things off the Prefabricated Ideal American Life List with harrowing speed, knowing that there's nothing but ennui lurking at its completion. So let's relax!
—-
Yeah, I want to see The Man From U.N.C.L.E., unless it gets completely panned. It's stylish spy-action starring very attractive people, which is more than enough for me in the doldrums of the summer movie box office.
—-
I dove into more Lovecraft last night ("Beyond The Wall of Sleep"), despite saying "I don't want to read any more Lovecraft" and using that as an excuse to not read anything else while my books were packed up. I enjoyed it. Lovecraft definitely has "his thing" that he hones in on, for better and worse. When it's working — it's working. When it isn't working — it's a lesson in the banality of derivativeness.
—-
A friend of mine got me into Godspeed You! Black Emperor last week. I had heard their name before. Circling around the band, pawing at it, but never engaging. But after listening? Holy moley, I've been shorting myself. I mean, the opening lines of "The Dead Flag Blues" are the sort of mutterings I'll be belching when I finally snap.
—-
Tomorrow night I'm seeing my two favorite bands, together! Between The Buried & Me and Animals As Leaders. Having to hike all the way to Providence, Rhode Island. And the lazy, fatigued part of me wants to find any excuse to not go. But I must push through! 'Cause I know when I get there, I'm going to have something of a transcendent experience.
—-
The fifth issue of Secret Wars is dropping Wednesday, and I find myself eagerly anticipating it. Perhaps that isn't noteworthy off the cuff, but I don't really yearn to read the "oh my God next fucking issue!" of event comics much anymore. If this Jonathan Hickman's swan song at Marvel (I do not believe he has anything lined up with them afterwards), then he is going out in peak form. A slow, ponderous meditation wrapped around world building, deep fried in some really gorgeous action sequences from Esad Ribic + company.
—-
That's it for me, folks! What are you doing this week?