Bill Hader joins 'Brooklyn Nine-Nine' as the new captain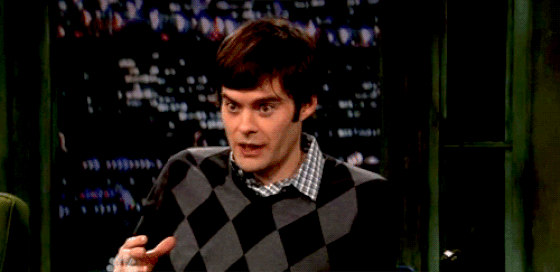 Bill Hader is awesome. Brooklyn Nine-Nine is awesome. Thus, this news is awesome.
The season two finale of Brooklyn Nine-Nine ended in a cliffhanger, with Andre Braugher's Captain Holt essentially getting forced out of the precinct by bureau chief Madeline Wuntch and the squad coming face-to-face with their new, yet to be revealed captain. However, EW has now learned that the new captain will be none other than Bill Hader. Not much is known at this point other than that his character is being described as "efficient," and Fox is keeping under wraps how many episodes he'll be appearing in.

Of course, it's only a matter of time before Holt and Gina are back in the Nine-Nine, as co-creator Dan Goor spoke to the Hollywood Reporter back in May after the finale:

If we got rid of them, Fox would have the right to call the police, handcuff us, and throw us off of cliffs. They are critical, wonderful castmembers who are incredibly funny. They are still regulars and we will be following them. The idea behind Gina going with Holt was to make it as clear as possible that Holt was not leaving the show, but they will be leaving the Nine-Nine for the beginning of the season. You'll see a new captain of the Nine-Nine and you'll see Holt and Gina in their new jobs.