White! Walker! Mastodon was fighting wights in 'Game of Thrones' last night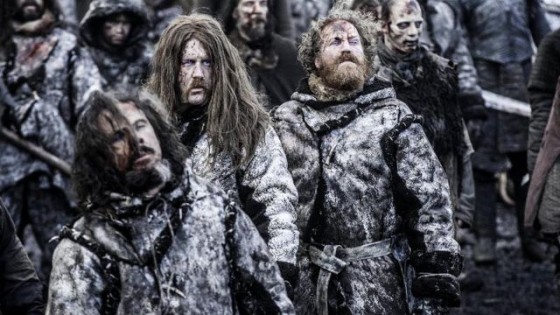 I don't watch Game of Thrones, but I dig the fuck out of this.
Apparently drummer Brann Dailor, guitarist Bill Kelliher, and guitarist/singer Brent Hinds were asked if they wanted to appear on the show by co-creator Dan Weiss, who is a big fan of the band. And they said yes, because they are big fans of Game Of Thrones. Here's what Dailor had to say about his experience:

It was such an incredible experience to be on set as extras for our collective favorite show Game Of Thrones and to be wildlings murdered and then brought back to life by White Walkers was beyond amazing. I watched my best friends Brent and Bill, murdered right in front of me as I myself was stabbed in the stomach and had my throat slit multiple times, and I didn't mind at all. It made me love being in Mastodon even more. We are more than privileged and honored to have been a part of one of the greatest stories ever told on film, and the catering wasn't bad either.

Mastodon, as members of the probably rather significant community of people who like both heavy music and the violent HBO fantasy series may already know, wrote a song called "White Walker" that appeared on the Game Of Thrones mixtape Catch The Throne Vol. 2. Whether other famous Game Of Thrones fans likeSnoop Dogg and The National will show up to get brutally slaughtered on future episodes remains to be seen.