Finished Oculus Rift hitting shelves first quarter next year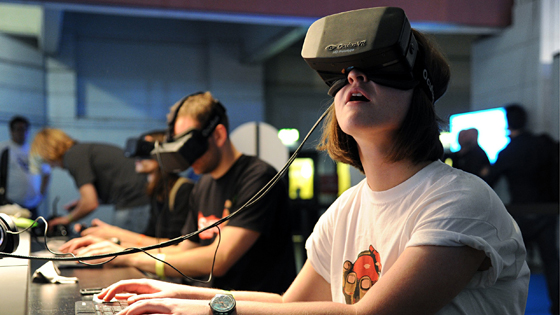 Finally! We know a pseudo-date for when we will be able to buy our Oculus Rifts. Don our haptic bodysuits. And bang one another in a virtual bathrub while the Kool-Aid man urinates delicious drink all over us! Next year!
It's finally happened: Oculus has announced a date for the finished version of its Rift virtual reality headset. The Oculus Rift consumer edition is going to be shipping in the first quarter of 2016, with pre-orders opening later this year.

The Oculus Rift has gone through several iterations since it was launched on Kickstarter in the summer of 2012. It's seen two development kits and multiple prototypes, most recently the "Crescent Bay" design that appeared last year. Crescent Bay uses two small displays, an external tracking camera, and carefully designed software to create the illusion of 3D space. Especially since its acquisition by Facebook in early 2014, Oculus has de-emphasized hard technical detail, but a company blog post says that some specifics for the consumer Rift are coming next week. The final design is above.

Oculus makes some other intriguing promises. "In the weeks ahead, we'll be revealing the details around hardware, software, input, and many of our unannounced made-for-VR games and experiences coming to the Rift," the post says. Oculus has previously said that the consumer Rift headset will be similar to Crescent Bay, and we've already seen some work from its in-house film team Story Studio. But while a handful of games — including CCP's space fighter EVE Valkyrie — have been announced for the Rift, unannounced titles could be big news.

The mention of input could be even bigger news. Last year, Oculus bought hand tracking company Nimble VR, and even before that, there was widespread speculation that it would announce some kind of custom controller. In this case, "input" could easily refer to making third-party controllers work with the Rift, but it's an intriguing reference nonetheless. On stage at TechCrunch Disrupt, Oculus product VP Nate Mitchell said that input has been "really tricky," and that Oculus has two research groups working on it: one to work on a near-term solution for the first or second generation of VR, and one for the longer-term future, up to 10 years from now. "We have a couple of things we're really excited to share in the near future, but nothing right now," he said.

One thing that's not mentioned at all is price. The second-generation Rift development kit went on sale for $350 last year, and Oculus' co-founders have previously said they'd like to stay between $200 and $400. Mitchell was vague on more details. "One of the really important things for us is always to make it affordable. We want to reach a state where we have hundreds of millions if not billions of people in VR," he said. "We do ultimately see VR as a mass-market product." As part of that mass-market strategy, Oculus wants to get the Rift into real-world stores, where people can experience it for themselves. "Ultimately, I think retail is going to be a really important part of our strategy," said Mitchell.