'Star Trek 3' going to be titled 'Star Trek Beyond'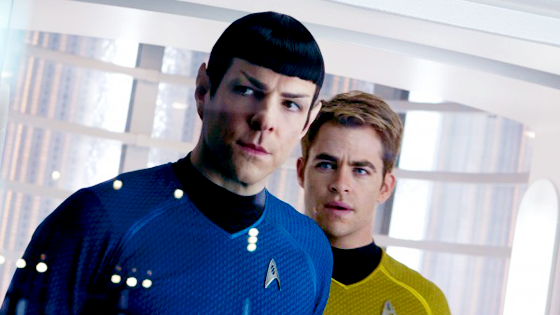 'Cause as if wasting your time with non-news about the other Star-titled franchise wasn't enough! 'Cause as if!
The third film in the recently rebooted Star Trekseries now has a likely title. After Star Trek and Star Trek Into Darkness, Star Trek 3 is likely to be called Star Trek Beyond. Read more about the Star Trek 3 title below.

TrekMovie.com is reporting the Star Trek 3 title news.

Justin Lin is directing the film which will feature the core cast of the past two films, along with Idris Elba, Sofia Boutella and others.

The report admits this might just be a title to put fans off the scent of the film, but "Star Trek Beyond" was reportedly registered with the Motion Picture Association of America. So it seems likely, with a July 8, 2016 release date fast approaching, this could be the title.

Simon Pegg is co-writing the film with Doug Jung and, as evidenced by the last film, this one should take the Enterprise deep into unknown worlds. That's another reason the "Beyond" title also makes sense. Plus, with 2016 being the 50th anniversary of the franchise, that title also has some significance as this would see the long-running series looking toward the future of the franchise.