F**k yeah! Miles Morales joining 'All-New, All-Different Avengers' team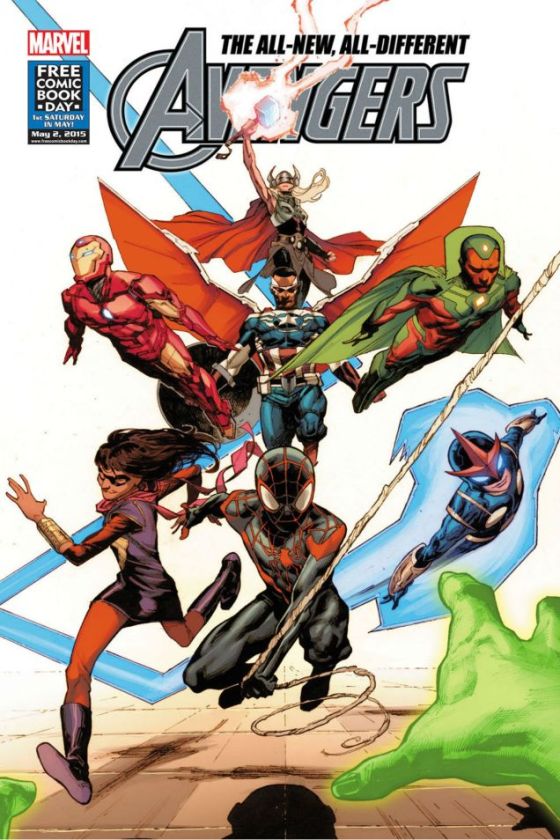 Thor! Ms. Marvel! Now Miles Morales!!! The All-New, All-Different Avengers team that is going to rocket out of the gaping maw of Secret Wars seems fucking awesome.
io9:
Exclusively revealed on Wired today (although the cover was accidentally leaked on 4Chan last night), the new Avengers team — Ultimate Spider-Man, Sam Alexander as Nova, Kamala Khan's Ms. Marvel, Vision, the female Thor, Sam Wilson's Captain America and Iron Man — will make their debut on Free Comic Book Day.

The line-up isn't just a big shake up for the Avengers roster, it's big news because it confirms something that many comic fans have been expecting ever since Marvel announced their Secret Wars event would bring about the creation of a new Marvel universe: that Miles Morales would be transitioning over from the "Ultimate" line of Marvel comics to the new main universe.

It's a surprisingly young team as well — with Kamala Khan, Miles and Sam Alexander all teenagers, the Avengers haven't been this youthful in a while.

These new Avengers will make their debut on May 2nd for Free Comic Book Day, ahead of the team returning in full after the end of the Secret Wars event later this year.
Are you digging this line-up? It's a nice breath of fresh air for me, featuring two of my favorite Marvel characters in recent history.